Hey everyone,
Blogspot just ATE my last attempt at this - second time lucky!!
I was out shopping with my mam today, and just realised that my local Fenwicks
(department store)
has started selling
Illamsqua makeup
on a stand. I've heard about this brand from various bloggers, many of whom have converted over from MAC.
I was so excited to try it, the lovely girl at the counter must have seen my face, so sat me down and tried some of the products on me. I was already wearing eyeliner, eyebrow pencil and foundation, so she just wiped the foundation off me, and popped on some RF140 which have a beautiful even coverage. It was a little more yellow than what I usually have, but it seemed to give me a more glowing colour.
Next I tried some blusher. I love pink dolly cheeks, but have also wanted to experiment with peachy shades, so she brought over some 'Unrequited'
(a soft baby pink)
and 'Lover'
(a warm apricot).
They both gave a gorgeous matte finish, but I still prefered the pink look.
And finally I tried a lipstick - pink again with 'Filth'. It was a bright, pigmented Barbie-pink, but I wasn't too keen on the consistency. It seemed very chalky and drying, although I didn't have any lip moisturiser or lip gloss.
However, this was the finished look: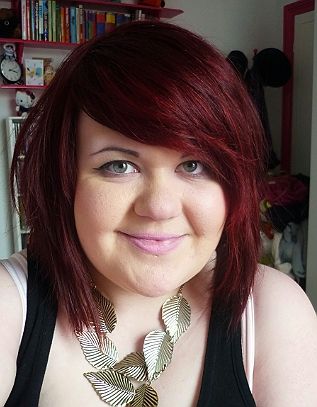 Apologies for the vest top/bra strap combo - I'm a disgrace to fashion bloggers everywhere.
My bedroom was also pretty bright so you can't see the blush very well. But you can see the smooth, even coverage of the foundation.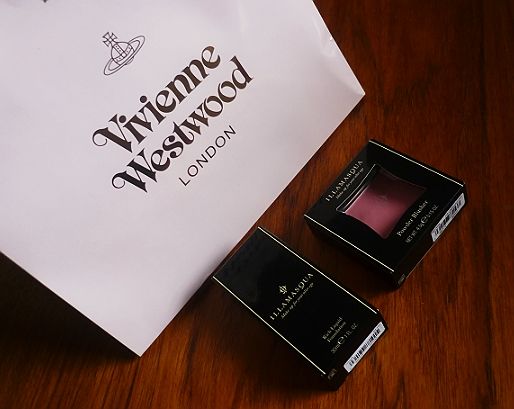 And the packaging - it's pretty and simple.
(I also got Vivienne Westwood's 'Boudoir' perfume for my 21st from my Uncle Paul - but I'm not opening it until my actual birthday on the 12th!)


Also, want to hear something silly?
Until I heard the correct pronounciation of Illamasqua (Ill-a-mask-a), I thought the 'Ill' part was an 'Ll' - maing it LLAMA-ESQUE!
FAIL!
But thank you to the lovely girl in Fenwicks for suggesting some lovely products without being pushy at all - I wish I'd caught her name to give her a proper shout-out.
I also had some good news this week. I am in the What & Wear section of this month's
The Crack
. If you haven't heard of it, it's a culture magazine printed and distributed in the North East. It features music, film, art, theatre, dance and LGBT along with fashion features: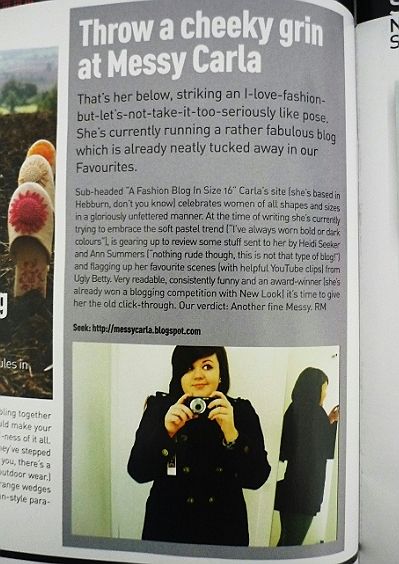 You can also read the article online.
What a lovely write-up, I was so pleased! Thank you, thank you!
It was just the pick-me-up I needed, as the past few weeks I've felt a bit disheartened with the blogosphere as I mentioned on my Twitter last night.

It's just the little things that have been niggling me - from bloggers bragging about how many followers they have, and lesser-known bloggers whinging abut not having "enough", while bugging others for links or mentions.
Followers aren't just a number. I am of course overjoyed that lots of people enjoy reading what I have to say - but I definately don't worry if I lose a follower, or tell everyone I know when I get a new one.
Just the same way I only follow blogs that I think are original, inspiring and have interesting content. I certainly would never follow a blog in the hope that I'd be followed back!
And as much as I love my sister, she really did kick me when I was down last night. She's not too familiar with blogging (although she does read this from time-to-time) and asked me:
"Is it not just a bunch of girls talking about themselves?"
Which I suppose it is in a way. One of the reasons we all have this blogging community is that we all have one thing in common - that we want to share something that we are passionate about, and presenting ourselves on a public forum.

But it got me worrying that I'm coming off as arrogant and self-obsessed to non-blogging folk.
However when I asked my mam her opinion over lunch today, she told me to stop being an idiot. As mother's do.
So yeah, I'm back on the wagon. I just need to concentrate on what I do, and what I love.
But what about you guys - has anyone in the non-immediate blogosphere ever thought what you did was self-indulgent?
I'd love to hear your experiences.
Muchos love,
MessyCarla.