Hey everyone,
I was lucky enough to be sent this beautiful ring by
Lushae Jewelry
to review!
Out of their gorgeous range, I chose the
white gold Vintage promise ring
- which is actually a set of two detatchable rings in one.
One being a classic jewelled band, and the other is a Chanel-cut.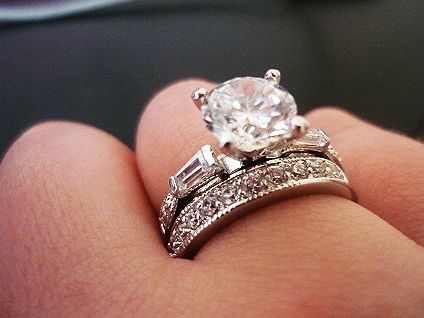 I absolutely adore sparkly rings, they just look so glamourous.
I'm never going to be able to afford real diamonds (not on my current wage, anyway!) of this magnitude, they're a wonderful substitute which are shiny and glisten in the light.
I'll be blogging about my London trip tomorrow
(well, technically today!)
, but I've been bedbound since coming home with a horrible stomach bug - so I'll be picking up the pace when I'm back to full health.
I'm trying to get back on track for Sunday which is the
A Night At The Musicals fundraiser
at The Bank bar, to raise money for
Northern Pride
in Newcastle.
If you're local, please consider coming down for a sing-song, and general campery with the drag queens. I can't
wait
!
(Plus you'll be able to have a dance with me and
Daniel
which is, frankly, priceless!)
Muchos love,
MessyCarla.
PS: Today, I also got an rejection letter for a writing job I applied to.
It was for an American website, but they said they loved my work which is quite brilliant as I was up against qualified journalists - so I'm not too downheartened! Try, try again.