[Please be aware that all links to the Ann Summers website may contain NSFW content. However this blog entry is fine - except for a picture of a very beautiful bra! - C]
Hey everyone,
As some of you may or may not know, I'm a brand ambassador for
Ann Summers
.
They're a wonderful company to work with, especially as a blogger - as they always tell me to be honest in my reviews, and to write whatever I think about the product, whether it be good or bad.
They were also kind enough to invite me to their press event to launch their Autumn/Winter collections.
This is pretty big news within the fashion world within the next few weeks, with places like
New Look
also having theirs.
I also invited one of my favourite bloggers,
Lillian
, as my plus-one.
She's priliminary a beauty blogger
(with fabulous OOTD posts dotted around too)
, and seeing as the event were also hosting complimentary proceedures such as blow dries, manicures, makeovers and eyelash extensions I thought her a rather perfect candidate.
First of all - I love London. It's always an exciting place for me to visit.
But LOOK what greeted me when I got off the platform at King's Cross:

The Hogwarts Express!!


I am a massive Harry Potter fan, so I actually squealed with excitement.
It was just so magical, and it even went *choo choo*.
There were also Hogwarts suitcases piled up which I imagine were filled with quills, parchment, schoolbooks and rememberals.
The theme was 'Hollywood Scandal' and the peices are inspired by bygone eras and backstage glamour.
Given that the event was at the Palace Theatre
(currently hosting Priscilla Queen of the Desert)
it was very appropriate as it all felt very luxurious. And of course, camp!
Included were lingerie sets in Argyle print, candy-striped corsets, a pink sparkly plunge bra
(which reminded me of something a trapeeze artist would wear!)
and lots of vintage-y frills everywhere!
This bra was my favourite: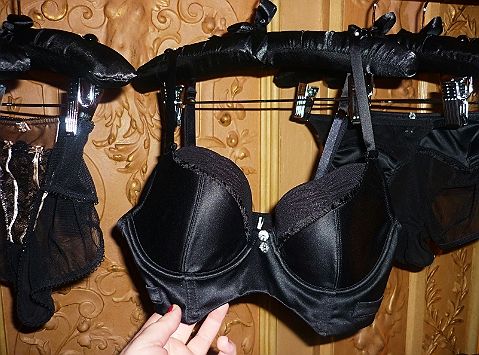 I think it's absolutely beautiful! And it was apparently inspired by
the bra that Lady Gaga was wearing whilst clubbing in London
, which is really cool!
As for beauty treatments, I got a fabulous makeover by the lovelies at
The Dolls House
, and I was given big silver glittery eyes and bright red lips.
Utterly utterly over the top, which I just loved.
(Although I got some funny looks on my train journey home)
There was a massive waiting list for the eyelash extensions, but I was dead cheeky and hopped on when there was nobody around. Teehee.
They're never something I would have really considered before, but I was curious as to whether I'd be given a false-lash effect.
But actually, they are very realistic, and just elongate my lashes, making them look naturally longer!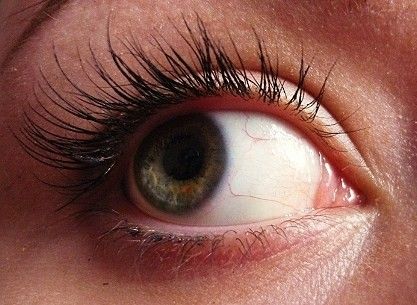 (Apologies for the scary close-up. I look like I'm auditioning for the Big Brother eye!)


Whilst I was being pampered, Lillian had her very first manicure: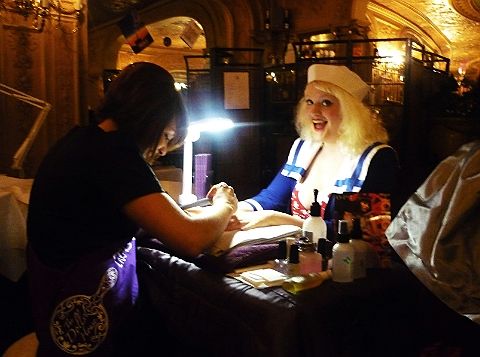 How cute, please?


There was also a bar with a choice of free cocktails, which were absolutely delicious - and ordinarily a £10 each, so we had a good few (Woo Woos and Rasberry Mojitos) and ended up a bit giggly.

Afterwards we went to a wonderful ice-cream place that Lillian knew, which sold some of the most fabulous dishes I've ever seen. Some of the ice cream was even shaped like spaghetti and fried eggs!
Totally eccentric, like something out of Charlie and the Chocolate Factory!

But I went for a (fairly) traditional ice cream based on Ferraro Rocher chocolates: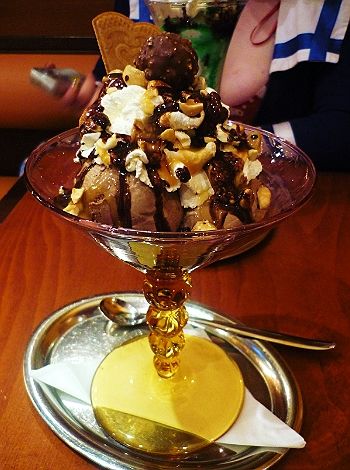 Nom nom nom.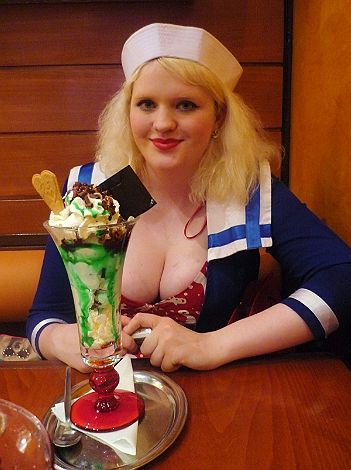 Lillian's ice cream was based on After Eight mint chocolates.


Movement after that quantity of ice cream was difficult, but I managed to shuffle over for a photo: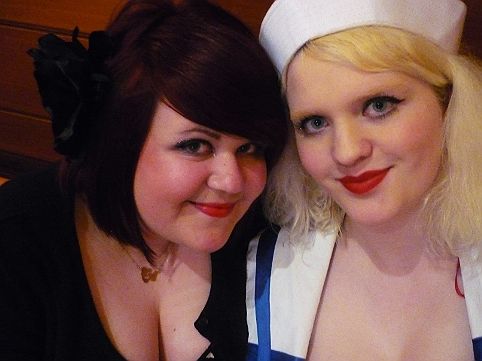 "I look like I have no eyebrows - like Bowie!" - Lillian.
(You can see some of my glitter makeup here!)

Then we said our goodbyes as I was going to meet my friend Michael, as he also happened to be in London (on an exciting top-secret mission. But I'll tell you guys as soon as I get the green light!).
But next time I'm around we're going partying - hoorah!

Because my day was so full (me and Michael went shopping in Shephard's Bush and went to a fantastic sushi place) I didn't get a proper chance to have a look in my goodie bag until I was on my train home.
In short, Ann Summers make the BEST goodie bags EVER!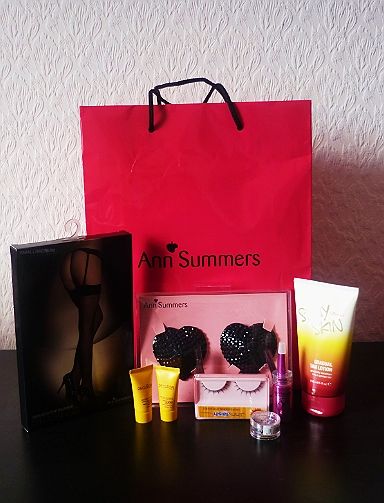 Stockings, nipple tassels, fake tan, eyelashes, eye glitter/stars and moisturiser.
What more does a girl need in life, really?
I must admit I cracked up laughing when I pulled out the nipple tassels on a packed train.
I think I gave the grumpy old businessman sitting next to me a bit of a fright!

So thank you to Ann Summers for inviting me for a wonderful day, and to Lillian for being her sweet and charming self - be sure to check out her blog if you haven't already!

Muchos love,
MessyCarla.