Hey everyone,
It's time for another outfit post. I wore this to my Uncle Paul's 50th birthday meal.
(He still doesn't look 50, however. He got ID'd in B&Q a few years ago for WEED KILLER!)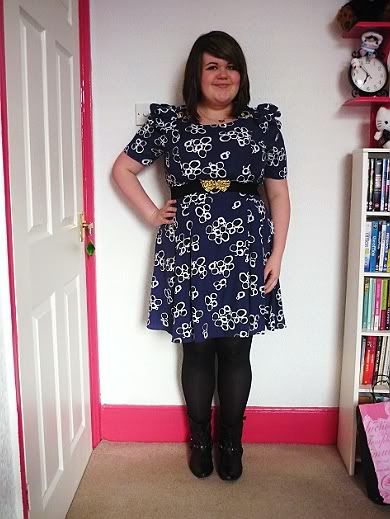 DRESS:
Primark (via Ebay) £7.
BELT:
New Look, £8.
NECKLACE
: Lady Luck Rules OK, £3.
TIGHTS:
Dorothy Perkins, £8.
BOOTS
: Fenwicks, £25.
POINT OF FASHION:
Ladylike.
I think my hair looks a bit of a mess here
(it's where the name MessyCarla came from, after all).
I'm dying to get it cut on Tuesday.
I finally booked my appointment on Tuesday at Toni & Guy, so expect a post later on in the week all about if it's worth it to pay the extra money for a 'professional' cut.
Then I'll probably put a colour on myself on Wednesday - nothing exciting, just another shade of brown as I'm sick of my highlights.
In other news, I am currently obsessed with
Obsessive Compulsive Cosmestics
Lip Tars. I only have them in two shades - Nude (a very pale nude) and Grandma (coral), but the beauty is that you can mix any of the tars together to make your own shades, which is just
so
exciting to me! See: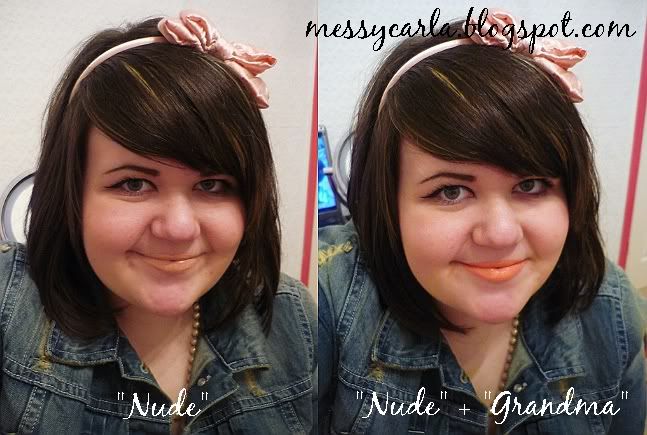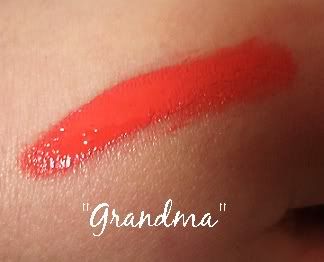 Grandma swatched by itself.
They're a very odd consistancy to describe. They look like a gloss in videos, but they're not sticky or gloopy in anyway. They're essentially a liquid lipstick, so just imagine your favourite lippy - melted!
They glide on beautifully and last for a few hours before they begin to feather and peel off. (I didn't use a lipliner however, and I'd been drinking through a straw which didn't help!)
Usually with lipsticks I put a bit of Lipcote on top to lock it in place - but it completely disagreed with the Lip Tars and made them practically disintergrate, so just a heads up about that.
Lip Tars taste like Murray Mints too - yummmm!
Oh, I honestly can't wait to get some more and get experimenting. I think the next ones I fancy getting are NSFW (a beautiful classic red) and Anime (hot fuschia pink). They're available on OCC'S official website, but there's a UK site that's recently begun selling them too for only £8.99 each and you can save on massive shipping prices.

I was browsing boutiques online in New York and I'm going to HAVE to start saving money for my holiday in June. I may just be cleaning out Patricia Field.
Thanks as usual for your lovely comments - and be sure to follow me on Twitter!
Muchos love,
MessyCarla.
PS: THESE are my new favourite snack. The apple is my favourite, but the peach is good too: