CLOSED!!
Thank you to everyone who entered and I will be chosing a winner ASAP!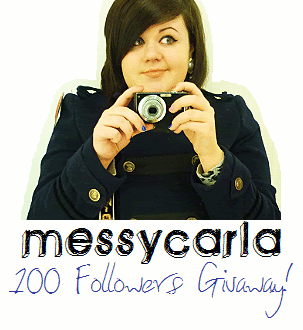 Hey everyone,
It's FINALLY here - my 100 FOLLOWERS GIVEAWAY. I know I'm up to 124 followers at the time of writing, but I'm still celebrating getting my first 100.

I've done a little video showing you everything you can win and the rules, but there's also pictures and a recap underneath.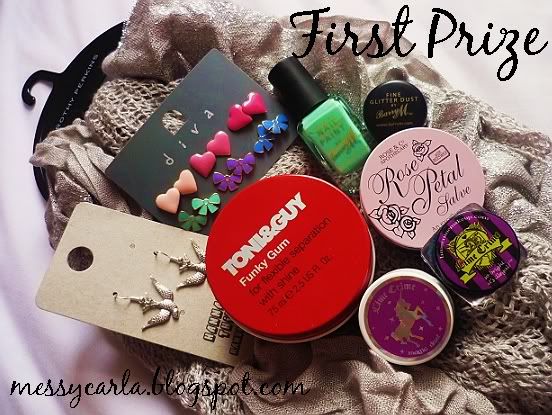 FIRST PRIZE:

Dorothy Perkins scarf
Toni & Guy hair gum
Hannah Makes Things earrings
Miss Selfridge earrings
Rose & Co lip balm
Lime Crime Magic Dust in Medusa
Lime Crime Magic Dust in Mirror Mirror (CandyFuture Collection)
Barry M Fine Glitter Dust
Barry M nail polish (mint)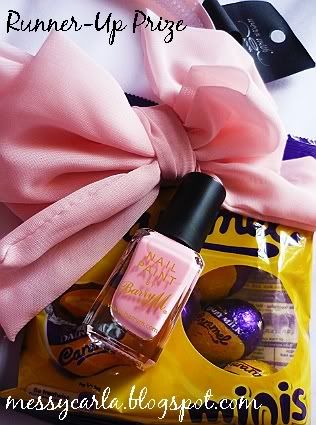 RUNNER-UP PRIZE:
New Look hairband
Barry M nail polish (baby pink)
Cadbury's Caramel Eggs


REMEMBER:
You MUST be a follower in Blogger/Blogspot to enter.
If you are a follower and comment here: 1 VOTE.
+ Advertising this link in an entry: 2 VOTES.
+ Permanently advertising this link in your blog: 3 VOTES!
(Feel free to use any pictures from this entry)

Best of luck everyone!
A winner will be chosen on SATURDAY 24TH APRIL 2010!!!
Muchos love,
MessyCarla.