Hi everyone,

You all know how much I love talking about fashion, but did you know my second passion is beauty products? I'm not skillful enough to write about them properly - there's plenty of amazing blogs out there for that but this survey has been floating around for a while now so I thought I'd be fun to give it a go!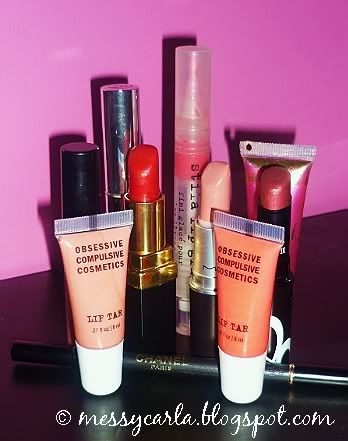 My collection of lip products.
(BRANDS: Chanel, MAC, Benefit, OCC, Barry M, Stila and The Body Shop)




How many times do you wash your face daily?
Once in the morning, and once again if I'm going in on the evening. I rub a face wipe over my face before going to bed.

What skin type do you have?
I think it's tempromental? I have mostly dry days, but sometimes my nose and chin can get oily, so I have to alternate what products I use. I also have a few bumps on my cheeks due to having elastoplasts/band-aids on my face during an operation a few years ago, and I'm allergic. My skin felt like it has burned off, I looked a mess and it's left a little scarring behind. I can feel it, more than see it, though.

What is your current facial wash?
Clean & Clear's Daily Exfoliating Wash is great and doesn't leave any residue as I think a lot of washes too.

Do you exfoliate?
Definitely, my skin feels kind of rough without it.

What brand do you use?
Soap & Glory and Clean & Clear.

What moisturizer do you use?
Purity – which is wonderful for sensitive skin. I use Body Shop body butters on the rest of my body – my favourites are Hemp, Vitamin E, Coconut and Carrot.

Do you have freckles?
The odd brown freckle dotted around my body. My favourites are two freckles on my neck that look like vampire bites!

Do you use eye cream?
Nope.

Do you or did you have acne prone skin?
Nope, just a few teenage spots - at 21! I always rest my hand on my chin, so I usually get outbreaks there.

Did you ever have to use Pro-activ?
No?

What foundation do you use?
MAC Foundation in NW15. It's definitely not perfect – it's a bit too milky for my liking, so I need to get shopping around for a better one.

How about concealer?
Nah, I just load up on the foundation which isn't big or clever.

Do you know your undertone colour?
Pink.

What do you think of false eyelashes?
I don't think I suit them, and my skin is sensitive to things like glue. Applied properly I think they look fabulous with the right look.

Did you know that you are supposed to change your mascara every 3 months?
Yep, but I pile on so much mascara I go through it in about this time.

What brand of mascara do you use?
Rimmel and Chanel.

Sephora or MAC?
They're two different things to me – one is a store selling lots of brands of makeup, and one is a specific brand of makeup? Hmm, except MAC (which it doesn't stock) I buy my makeup in Boots (they have a brilliant loyalty points scene) or online.

Do you have a MAC pro-card?
No.

What make-up tools do you use in make up application?
A brush set from The Body Shop.

Do you use make up base/primer for the eyes?
I prime with a shadestick by MAC.

For the face?
A small amount of moisturiser. My Italian aunties were all beautiful, had great skin for their age and swore by the importance of moisturising!

What is your favourite eyeshadow (colour or shade)?
Grey.

Do you use pencil or liquid eyeliner?
Liquid eyeliner for the upper lip and pencil for the lower/waterline.

How often do you poke your eyes with a pencil eyeliner?
I don't think I have. I've had liquid eyeliner in my eye a few times and it HUUUUURTS. I've also poked myself in the eye with a mascara wand a fair lot. I'm dead clumsy.

What do you think of pigment eyeshadows?
I love MAC's. They're so long-lasting and gorgeous colours. They seem to last forever too!

Do you use mineral make-up?
I haven't tried it, and don't know enough about it to be too interested.

What is your favourite lipstick?
At the minute do OCC Lip Tars count as they're liquid lipstick? I liked LimeCrime before I found out about the drama, but aside from that they're very drying and stained like mad. I'm dying to try Barry M's – task for next week I think. I've only really gotten interested in lip colours the past few months.

How about lipgloss?
I used to love my Stila lipgloss, but it's so hard to find here now. The one I use now is by MAC and lovely.

What is your favourite blush to use?
It's pink and by The Body Shop. It also kind of smells like strawberries! But having naturally pink skin, I don't tend to worry too much about blush.

Do you buy your makeup on Ebay?
Only a few shadesticks. I'm too aware of a lot of fakes on there.

Do you like drugstore makeup?
I only use Barry M and Rimmel mascara. I prefer higher-end brands because I'm a stuck-up snob. xDD

Do you go to CCO's (cosmetic company outlets)?
I have no idea what this is?

Did you ever consider taking make-up classes?
Nope.

Are you clumsy in putting on makeup?
Oh yeah, I always have to have makeup wipes at the ready.

Name a makeup crime that you hate?
I'm not a fan of orange fake tan, dark lipliner and light lipstick, and I don't like pink/red eyeshadow.

Do you like colourful shades of makeup (lipstick, eyeshadow) or neutral ones?
I like dark eyes and quirky lip colours. As for neutral though I'm LOVING the pale pink lips trend, I think it's too cute.

Which celebrity always has great make up?
Lady Gaga and Gwen Stefani.

If you could leave the house using just ONE make up item, what would you use?
Black liquid eyeliner.

Could you ever leave the house without any makeup on?
Only when I have cold, or I'm doing solo uni work and know I won't be seeing anybody I know.

Do you think you look good without any make up on?
Haha, I'm such a cheerleader for 'real' girls, but I think I suit a bit of slap. My friend Sarah once said to me "Oh Carla, you do scrub up well!" and I think she's right.

In your opinion, what is the BEST makeup line?
Barry M, MAC, Chanel and OCC.

What do you think of make up?
It's expressionate, and easier to allow you to experiment with your look than any other medium. If you don't like it – you can always wash it off again.


I don't read a lot of beauty blogs (I'm generally more interested in fashion blogs), but my favourites are Funny Face's Place with the gorgeous Lillian (who I actually discovered though YouTube - her accent is completely adorable!!), and my friend Sarah's over at Quirky Face because they both seem to offer something a bit different!
But I'm doing a proper post soon about my favourite bloggers and vloggers, so stay tuned.

This week has been so busy, but thankfully productive. Tuesday was principal recording for my radio drama dissertation with the actors which was nerve wracking as I've never directed before. But everything seemed to flow, and my cast were fabulous!

Anna Leigh Middleton who kindly played one of the roles is also a wonderful local country/folk pop singer. This is the music video for her song Let The Music Take You There. There's more tracks on her MySpace.


As for me, I only have ONE MORE assignment due for the end of this week, then we can get vaguely back to normal until the pace picks up again!
I miss doing this more regularly. I even have a few reviews to do over the weekend.
The thing I'm most excited for is hosting my 100 Followers Giveaway (although I now have 114 now - HELLO NEWBIES!) sometime early next week - it's going to be fuuun!
Finally in NON-FASHION NEWS (*GASP!*) I was once agin in our local paper. The journalist Johnny Wilson who kindly did the feature on my blog a few weeks ago asked for a few quotes on an article about Facebook and social networking. You can give it a read here - I'm about halfway down.
Thank you again for all your lovely comments you leave (you lot are honestly too kind), the people who have been pimpin' this blog in LJ communities (I can't view the entries as I'm not a member, but thank thank thank you) and following me on Twitter. You're the BEST!

Muchos love,
MessyCarla.

PS: Daniel keeps trying to convice me to start a weekly event called 'Fashion Police Friday'. He's dying to make me a bit more controversial! Hmph!