Hi everyone,
I'm back from Edinburgh and had a wonderful time! I honestly forget how much I love that city until I keep going back. I'm going to end up living there one day, I can just tell.
Although we were just going to see Les Mis, we had loads of time for typical touristy stuff
(Megan had neglected to tell me that this would be her first visit to Edinburgh - I was so excited to play tour guide!)
and of course, shopping.
Megan's train was getting in two hours after mine, so I mooched about for a bit
(I was even invited to join a cult. I was just sitting with a frappe having a lovely time reading Look when he thrust a business card at me and asked if I'd "Like to be saved, lovely lady?" No.)
and found this lovely denim shirt in New Look.
I've wanted one for AAAAGES now, but the ones I've tried have always seemed to swamp me. This one still gives a boyish frame
(well, as boyish as I can get!)
but doesn't widen me: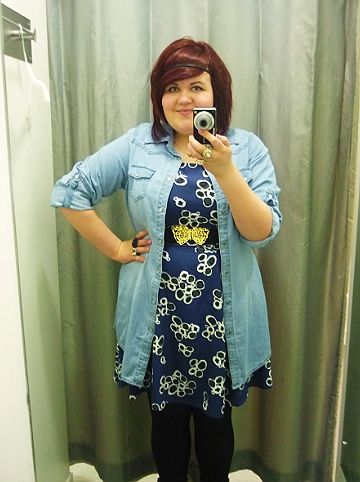 Cute, right? :)
Everything else:
DRESS:
£10, Primark via Ebay.
BELT:
New Look, £2.
HEADBAND:
Primark, £1.50.
RINGS:
Accessorize, Dorothy Perkins, and vintage.
Les Misérables was absolutely AMAZING
(Click the link for their promo video)
- I've seen it twice before, and was in it five nights for school, but that was my probably my favourite production as they've spruced up some of the numbers and added special effects and cinematic elements.
I also noticed they'd changed some of the character's accents. Fantine was from Yorkshire, the factory girl was Irish and the Thernadiers were GEORDIES!
My favourite musical theatre actor Jon Robyns was also starring as Enjolras, and we went to meet him at the stage door afterwards. Everyone seemed to be waiting for Gareth Gates
(who was playing Marius)
, and poor Jon looked like he was just going to leave, but we collared him and had a lovely chat. We'd previously
seen him in Avenue Q
and Miss Saigon, so we felt a bit stalker-y, but he said
"I wouldn't mind having stalkers if they looked like you!"
He is such a sweetheart!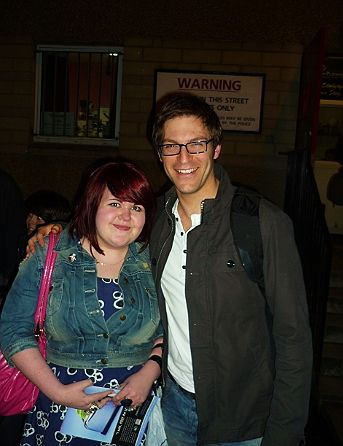 Haha, I look a bit shiny and happy here!
We stayed over at my friend Jemma's flat, who is lovely. When Megan caught her early train today, we went to get lunch at the Hard Rock Café
(I haven't had their Cobb Salad since I was in Baltimore in 2008!)
then had a look around Harvey Nichols as I hadn't been before.
I've fallen in love
with these Balenciaga sunglasses
. They're just so cute and vintage-looking. I may see if they have them when I go to New York, as holiday money doesn't count.
It feels like spending Monopoly money!
Also, Rhianna owns a pair which is quite cool: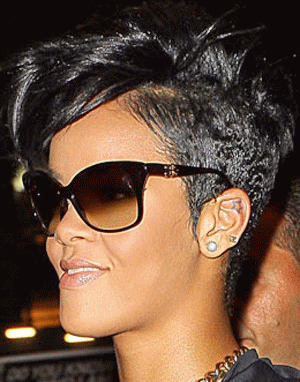 So thank you thank you to Megan and Jemma for making it such a lovely trip!
Et finallement, I just have to say how much I love these chocolate cups. I used to have them all the time in pick n' mix as a kid, and now can only find them in Edinburgh. Nom nom nom.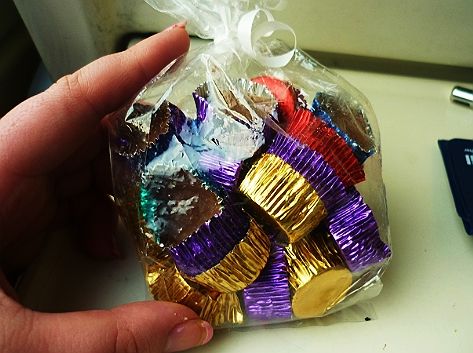 My PR placement begins tomorrow - wish me luck!

Keep following me on Twitter if you so wish, and this is also your last chance to get your questions in for the Q&A video - remember, anything and everything!
Muchos love,
MessyCarla.