Hey everyone,
I thought that it's been quite a while since my last
Outfit Post
- so I took a picture of my outfit today!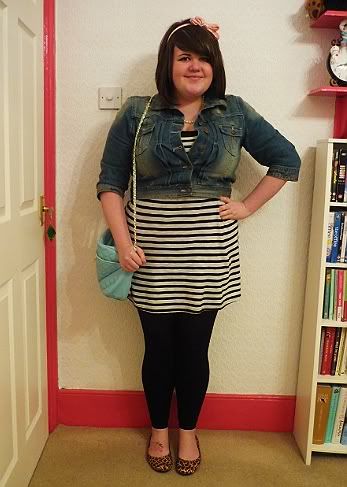 DRESS:
Dorothy Perkins, £12ish.
JACKET:
Matalan, £16.
BAG
: Matalan, £8.
NECKLACE:
Vintage, £My mam's from the 1980s.
HAIRBAND:
New Look, £Prize.
LEGGINGS:
Primark, £2.
SHOES:
Dorothy Perkins, £15.
POINT OF FASHION:
Soft pastels.
I've always worn bold or dark colours, so I'm really trying to embrace the soft pastels trend.
That denim jacket's my little obsession at the minute, I'm wearing it with absolutely everything!
The lovelies at one of my all-time favourite online stores Heidi Seeker sent me some stuff to review so expect that mid-next week.. And the lovelies at ANN SUMMERS (Only click if you're over 18!) sent me some pretty things to review also (nothing rude though, this is not that type of blog! ;)) so I'll be talking about that soon too.
I'm so busy over the next couple of days as my dissertation recording is happening on Tuesday and until then I'm dedrafting the script over the weekend until it's just right.
However, I am up to 99 FOLLOWERS! I've been getting a few things for the 100 FOLLOWERS GIVEWAY I'll be hosting soon. We're just waiting for the latest crew member to join the good ship MessyCarla!
Keep commenting and following me on Twitter! I love hearing from you guys.
Muchos love,
MessyCarla.
PS: Me and the boy went to the Marble Slab Creamery in Newcastle today on an ice-cream date. Definately check them out in you're local - it was my first scoop of Butter Pecan with Butterfingers since I was in Virginia in 2008!
Also, when I'm not working, I'm watching my Ugly Betty boxsets. This is one of my favourite scenes - what's not to like? Marc, Amanda, couture gowns and musicals!
EDIT:
And April makes 100!
BLOG GIVEAWAY SOOOOON!!