Hi everyone,
Any of you North East bunch free on Sunday? Get yourselves down to Newcastle's first Vintage Kilo Sale! It's run by the same company who do the
Affordable Vintage Fairs
around the country.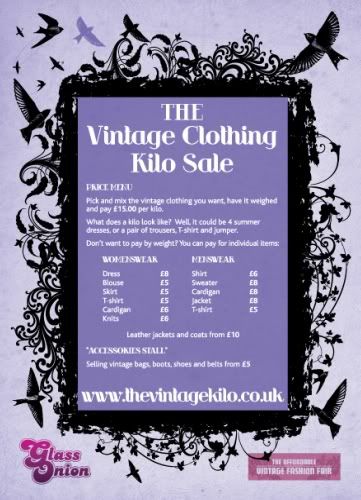 Basically it's running with the ethos that vintage clothing shouldn't be stupidly overpriced. So you can pay £15 for a kilo of clothing - which basically weighs in as four dresses, or a pair of trousers, t-shirt and a jumper. If you just see individual items you like, they're all on a generalised pricelist as you can see above. But these will be dotted around during the day so you won't forget.
There's
TWO AND A HALF TONNES
of stuff coming in, so you're bound to find something you love!
Newcastle's first one is this Sunday 7th March. And what's extra good? I'll be working there! So if any of you guys come along and see me, please say hello - I'm nice, honestly, and I'd love to meet some of you locals!
If you can't make the North East one, the next one will be in Nottingham on Sunday 28th March. But keep checking the official website, as they have lots of events also running in London and Leeds.
Let me know if any of you are coming along?
Muchos love,
MessyCarla.