Hi everyone!

Sorry for not updating you all sooner on the second day on fashion week. I've had so much scripting and writing to do for my dissertation this week I've hardly had any time to blog! However I've been taking a few outfit pictures for you guys.

This is a pretty laid-back outfit for me. I hardly wear jeans-and-t-shirt outfits these days. But it was a long day, so I just wanted to be comfortable: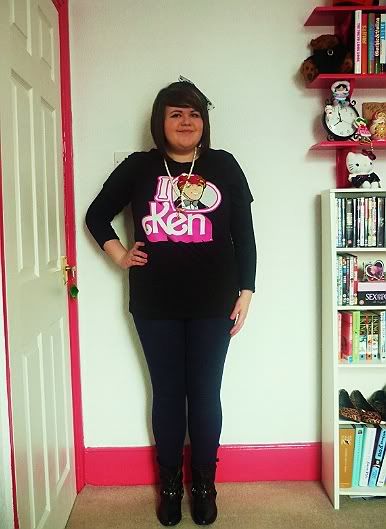 T-SHIRT: Hot Topic, $25.
JEGGINGS: Dorothy Perkins, £10.
NECKLACE: Topshop, £12.
HAIRBAND: Primark, £3.50.
BOOTS: Fenwicks, £25.
POINT OF FASHION: Comfortable for a long day at university.

And the second was for dinner at my friend Michael's dinner party last night. You can read all about it in Michael's fabulous food blog!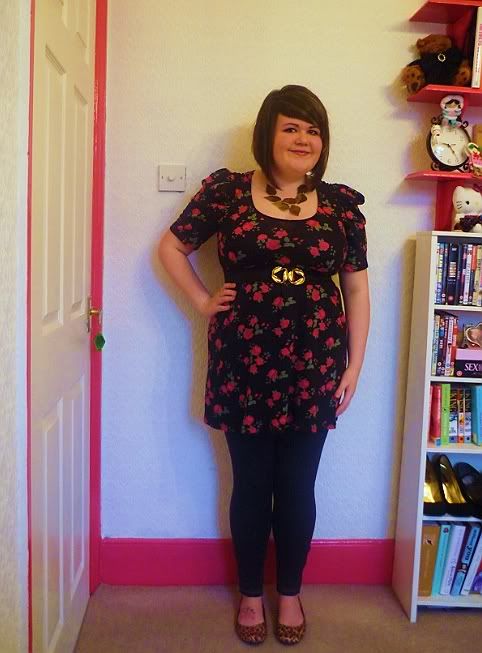 DRESS: Dorothy Perkins, £25.
JEGGINGS: Dorothy Perkins, £10.
BELT: New Look, £8.
NECKLACE: Topshop, £10ish.
SHOES: Dorothy Perkins, £15.
POINT OF FASHION: Roses.
To go with the roses theme, I kept my makeup really simple - simplistic lined eyes, and dark lips. I got the lipstick free at The Look Show and it's by Beneift. I can't believe I haven't tried their lipsticks before - they're so glossy and gorgeous!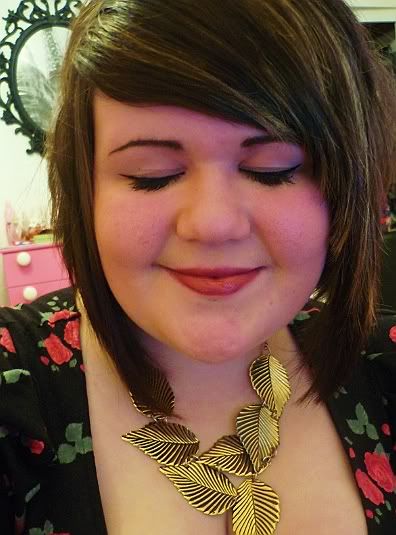 Michael's dinner was absolutely fabulous.
Please check out his blog
for his amazing dishes as he cooks his way through Jamie Oliver's cookbook.
He's one of my superfans of this blog, and in honour of this - he produced bottles of Evian Spring Water designed by Jean Paul Gaultier! I was so surprised!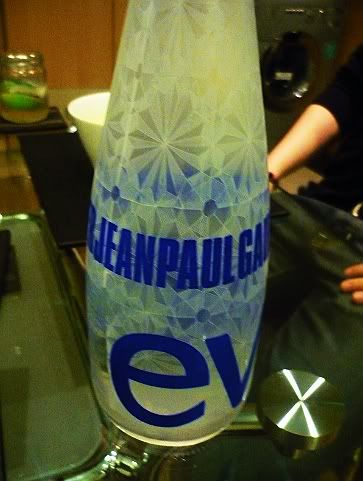 I PROMISE my next entry will be all about Bernard Chandran's party where I mingled with celebrities and met Mr. Jimmy Choo!
Keep your lovely comments coming, follow me on Twitter, ask me questions on Formspring.Me!
Muchos Love,
MessyCarla.
PS: My dad was reading my blog today and even added it to his favourites! My sister is in the process of turning him vaguely-fashionable (he got his first ever pair of Converse for his 50-something birthday in June) so maybe it's rubbing off on him?