Hi everyone,
Sorry it's taken me so long to do the second half of my report on fashion week. This was the day after The Look Show, which you can read all in one of my previous entries!

I managed to swing a last minute invite to Bernard Chandran's Private Dinner party at the beginning of London Fashion Week last weekend. I was only supposed to be going to cover The Look Show for New Look, so it was a bit of luck that I was in the big smoke to blog about this for The Sassy Minx!

Bernard Chandran is Malaysia's hottest designer – as well as being a television personality in Asia, being the chief designer on resteraunts, and co-operating with Malaysia Kitchen (http://www.mayasiakitchen.com/) to promote Malaysian food in the UK.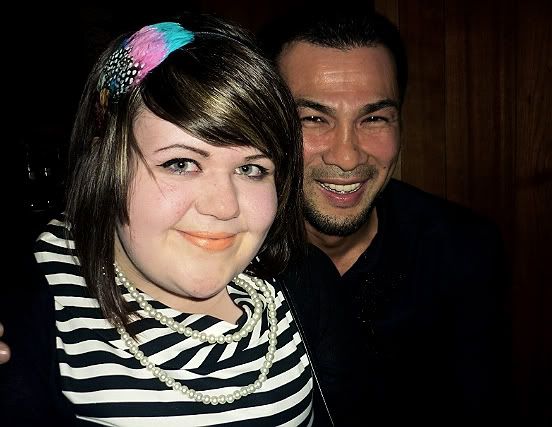 (In case you were wondering my dress was from Principles, and my fascinator was from Accessorize. I borrowed the beads from Georgina)

However, he wasn't intimidating at all – in actual fact, for such a hot designer he was incredibly down to earth and friendly. I write a blog aimed around the fact that I am a size 16, and he seemed really into this idea. "When I design for women, I do not think of their bodies – I love women's imaginations and spirit more!" He sparkles, "My assistant for example can't fit into any of my collection and that's fine - I hired her for her personality!"

When I asked him about his collection, although his latest collection is the height of coutour, with enlarged sleeves and skirts in many of the pieces, he describes his look as wearable. "It's all about context," he explained. "You wouldn't wear one of these pieces to the beach, would you? But I love them all – I call them my babies, and I couldn't pick a favourite!"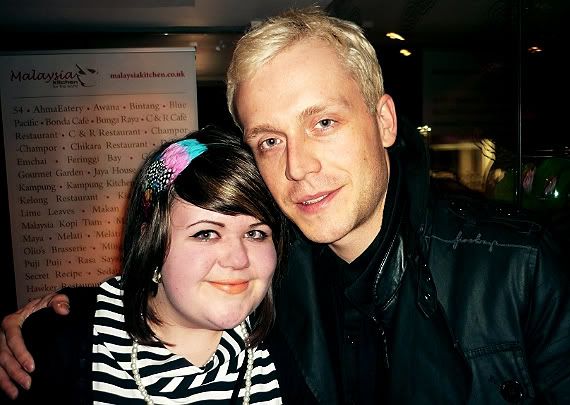 Amongst his celebrity friends present were Mr. Hudson (above), Beverley Knight (who when watching a playback of the show asked me "Couldn't you just see me on TV in that?" I definitely had to agree – it was a beautiful sparkly purple bodycon dress), Sophie Anderton and Jimmy Choo (who was very sweet and polite – despite the fact I was wearing £35 heels from Next).


It was a wonderful, sparkling event – filled with people in the industry including designers, photographers, journalists and bloggers. I even got talking to Alexandra Burke's family over a fantastic chicken dish and chocolate mousse. That's Chelsea for you – you never know who you're going to run into over dessert!


Me and Georgina after a few too many free Cosmopolitans - they were absolutely delicious!


MANY MANY thanks to Miss Lisa Clark for letting me go in her place and get to tell you all about this! Be sure to check out her brilliant blog over at The Sassy Minx. Also KUDOS to Jess Bowen of Sauce Communications - PR Girl Extroadinaire for Malaysia Kitchen who took care of us during the night, and made sure we got to meet everyone!
This entry is dedicated to the incredibly ignorant freshers girls sitting who insist on talking/laughing loudly in the computer lounge next to me at university. Manners, anyone?
However, I'm staying cheerful as my local paper is doing a feature on the blog early next week, and of course it's the Vintage Clothing Kilo Fair on Sunday!
Muchos love,
MessyCarla.