Hi everyone.
I'm so sorry for the 6-day hiatus, it's been a while since I was away from blogging that long.
I've promised you guys a hair post for quite a while now - I've gotten a few comments and emails asking about how I do my hair. And although it's not a how-to, I've done a video all about the products I use:
Apologies that I talk EXTREMELY fast!
If you want anymore information on anything else - just ask! I do love haircare just a bit too much.

Also, I thought you guys may appreciate this MSPaint collage of my hair(mares?) through the years: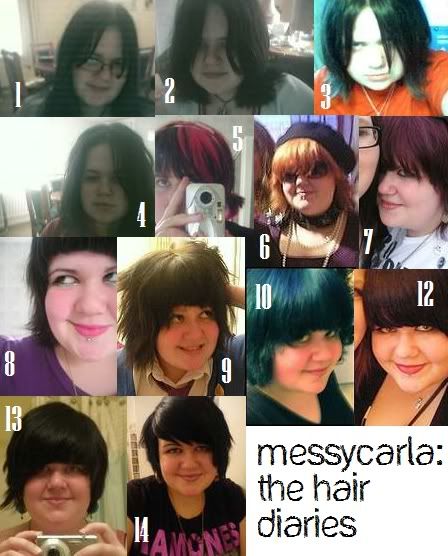 1. Age 11. A boy made a mean comment about my fringe so I grow it into two little strands as people were doing in 2001. Later dye it black and red as I am a teenybopper goth.

2. Age 11-12. Get my hair cut fairly short compared to what it was. Get my first pair of hair straighteners (they had STEAM in them!) and flicked to my heart's content. Base it on Brian Molko's hair in the Taste In Men video.

3. Age 13-14. Get my hair cut even shorter with shaggy layers like Craig Nicholls from the band The Vines (teenage obsession) and pout moodily in all photographs.

4. Age 14-16. My hippy phase. I curl my hair overnight in wet plaits and wash it infrequently.

5. Age 16. Leave school and go to college so I can dye my hair the crazy colours I've always wanted to. Get my friend Marie (who'd never been near a bottle of bleach previously) to put pink streak in my (returned!) fringe when my mam is out.

6. Age 16. Bleach hair, and have a short ginger period.

7. Age 16-17. Purple hair and the beginnings of my electro phase.

8. Age 17-18. Into my electro phase - go to college wearing glitter, eyeliner and a teeny tiny fringe.

9. Age 18. Keep short fringe, hair my natural colour and ends long.

10. Age 18. Crazy colours phase has a short return.

11. (THERE IS NO 11 AS CARLA CANNOT COUNT!)

12. Age 18. Go to uni and start clubbing so I have sleek dark purple/black hair and grow my fringe to the side after a breakup.

13. Age 19. Before my month-long trip in Virginia (where it's hot and humid in the summer) I cut my hair in a short 1960s style bob and my fringe gets heavier.

14. Age 19-20. Shorter, shaggy fringe, heavy black layers and tapering.

And of course you'll just have to watch the video to remind yourselves where I am now: long at the front, short and tapered at the back with a heavy fringe with blonde highlights!

Hope you're all having a good weekend and spoiling your mams rotten tomorrow for Mother's Day. I've gotten Mammy Benstead a card and a Chanel lipstick - I think she deserves a fancy one!

Muchos love,
MessyCarla.