Hi everyone,
Tim Burton's Alice In Wonderland was released yesterday, and everywhere is awash with inspired treats! I love that the looks tie in with the tea dress/floral/ditsy trend at the minute, but giving it a good fantasy twist. If you'd prefer a more gothic look, HotTopic.com has got plenty (mostly movie tie-in items) - but here's my favourite from what I've spied around the shops: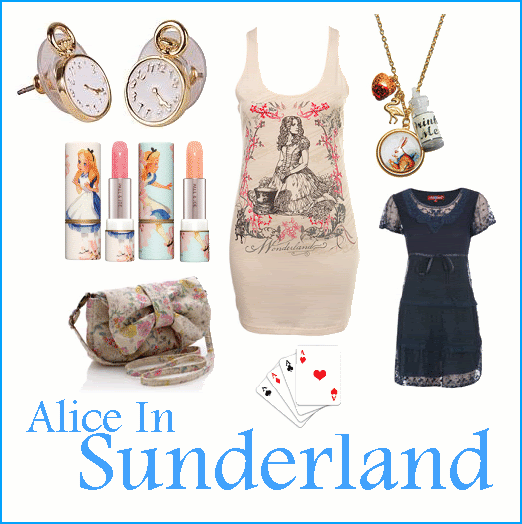 VEST:
Miss Selfridge, £18.
EARRINGS:
Disney Couture, £14.
LIPSTICKS:
Paul And Joe, £25 (each).
BAG:
Accessorize, £22.
NECKLACE:
Temporary Secretary, £22.
DRESS:
Dorothy Perkins, £28.
The 'Alice In Sunderland' title is dedicated to my lovely friend Sam, who was Alice this Halloween ("It's the first year I haven't been a gothic-something!"). We assembled her outfit ourselves: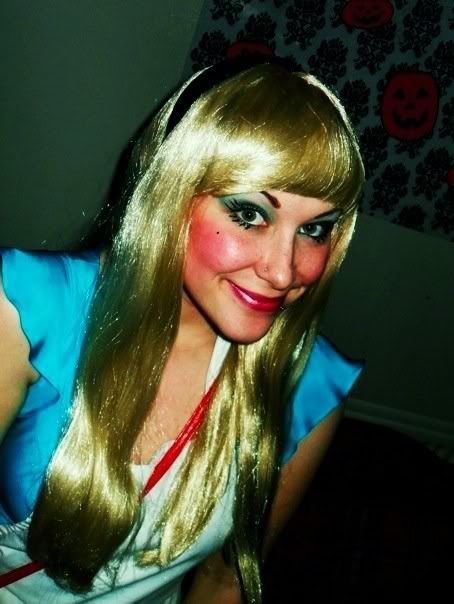 Her dress, black pumps and heart-shaped bag (
which I also have
) were both from Topshop (
her dress was bought during this shopping trip
), her tights were from Dorothy Perkins, and her wig and pinny were from a fancy dress shop. Her hairband was made with leftover black material.
Right, so I have a busy week ahead of me - out dancing tonight for my friends Adam, Megan and Chloe's birthday party, tomorrow I'm working the Vintage Fashion Kilo Fair, Monday I'm moving out of my student house for good, Tuesday I have the interview for the local paper and Wednesday is work then for a cheeky Nandos with my childhood friend, Jamilah.
Jamilah by the way is a brilliant up-and-coming R&B artist (
she was in girlband Desire in The X Factor last year and they made the final 25 bands
) and I promised to feature her on here, so be
sure to check her stuff out
!
Muchos love,
MessyCarla.