It's such a shame I have to start this blog today with such sad news:
R.I.P Lee Alexander McQueen
(1969-2010)
One of my favourite designers Alexander McQueen was found dead in his London home today. He was so innovative, inspiring and was one of the most exciting British designers. He'll be so missed.
On a more positive note, a big day for me. Today I tied my hair back.
Not a big deal? Well, it actually is for me!
My memories of wearing my hair tied is a childhood where my mam pulled my hair back into two tight pigtails every morning, and her pulling at my tangles while I yelled at her!
I was interested in doing my own hair when I went to Secondary School (High School), and she convinced me that the older girls all wear their hair up. In my first week at the tender age of 11, a boy made fun of my ponytail, calling my "Charver (chav) Head". I cried, and pulled my hair from it's crocodile clip.
I then found rock music, turned into a goth, and wore my hair in two lank, black curtains at either side of my head because I was dead mysterious, or something.
But I fancied something different today, so just pinned the longer parts to the back of my head: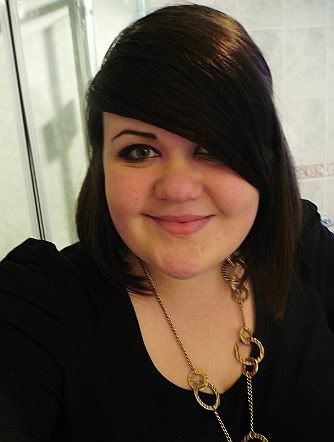 Sorry it looks a little messy here - I had to run for the metro to uni this morning
(surprise, surprise!)
so this was from when I got home.
Another plus, is that I can finally show off my lovely earrings - I've been hiding my ears for nearly ten years now! - So time to flash them about: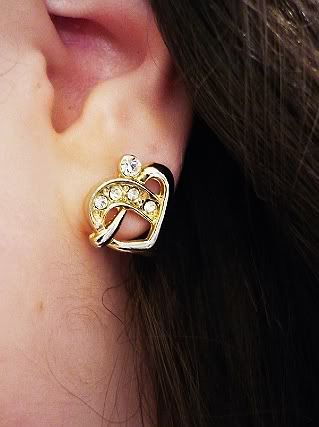 These are my favourite earrings at the minute. They're vintage, and I got them for only £3! They're just too cute and sparkly.

In other news, this blog has got it's first award from one of my favourites
Buttons, Bows & Brogues
. Thank you so much, Stephanie! I've gained a few new followers from the linkage on her blog, so if you're new - HELLO!! :D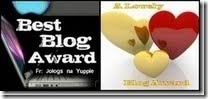 This is a pass-it-on award, where if you are awarded, you have to pass it on to six other blogs!
I watch so many wonderful blogs. But my favourites at the moment have to be:
and

My Stylish Life
(This girl deserves more followers - she's adorable! - and she's called Nadia, like my sister!)
Be sure to check these guys out, they're all brilliant!
Right, I'm off to bake something. Tomorrow I'm going to have a lovely lazy day, work on my dissertation script, then go to my darling friend David's house party he's throwing for his new housemate.
Muchos love,
MessyCarla.