Hey everyone. First of all this blog has had a bit of a surge in new followers
(on Blogspot, and I know there's a lot of you following via RSS Feed and Google Reader - don't worry I know you're there!)
because my favourite YouTuber and homegirl
(we're both from South Shields)
Lauren Luke
aka
Panacea81
retweeted this address.

So if you're one of the newbies via Lauren, HELLO! It's lovely to have you here.
Back to business, an outfit post! I wore this when I went for sushi with the boy: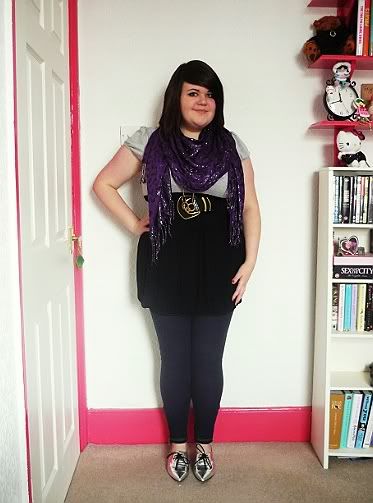 DRESS:
New Look, £18.
JEGGINGS:
Dorothy Perkins, £10.
SCARF
: Primark, £3. (from this video)
NECKLACE:
New Look, £Present from my friend Claire.
BELT:
Matalan, £5.
SHOES:
Vintage.
POINT OF FASHION:
Dark colours.
In other news, I was doing a bit of Googling the other day and came across this article from Dutch fashion website
FashionNews.NL
: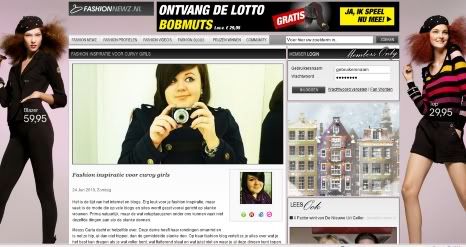 How rather nice?
I don't speak any Dutch, but a bit of help from Google Translator told me it was a lovely, positive article. The boy pointed out that the loosely translated:
"If you know the next time so with the ancient cry for help "I have nothing to do !!!!" for the state cabinet (???) check out http://messycarla.blogspot.com/, for MessyCarla: A Fashion Blog In A Size 16"
makes me sound rather God-like.
Which I'm not. I'm a bit of a weird Geordie girl who spends her evenings eating cereal and watching The Office.
Anyway, you can
read the original article here
, or
the translated version here
.
Tuesday's a bit of a big day for Geordie fashionistas, as the new part of Eldon Square mall is opening - with brand new Flagship-sized Topshop, Topman, Dorothy Perkins, River Island, New Look, Apple stores and more. Topshop's event looks brilliant - they're doing promotions, competitions and even giving out free frappes and cookies from the new cafe Chalk & Paper.
Just my luck I have class during this time (where there's a severe lack of girls due to film dissertations, so I have to especially go and represent the sisterhood), but good thing is my sister (who is WAAAAAY more fashionable than me - believe me!) and her friends are going. So I've asked her to take plenty of pictures for you guys.
I bet she won't remember, cause she's a bit useless! Heh.
This is what it's going to look like though, apparently: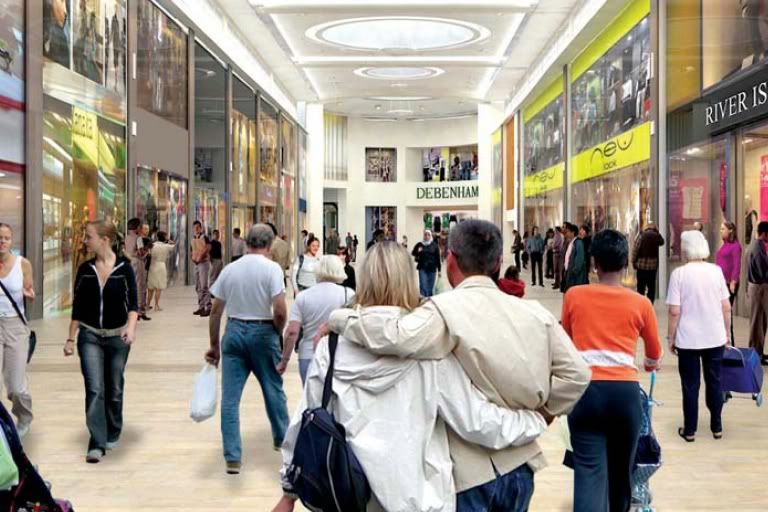 It looks like it's going to be great! The Dorothy Perkins and River Island in Newcastle are pretty small, so good news especially for those!
Is anybody local going?
I can feel myself getting a cold, but I'm NOT letting it stop me from doing the nice things I have planned this week.
Tomorrow is Valentines Day, so I'm going to be swapping presents with the boy then going to
Newcastle's Affordable Vintage Fair
(I LOVE these), Monday is the my Ambassador work night out, Tuesday I'm out dancing with
Daniel
, then Saturday after
the university open day
Adam, one of the Ambassadors from Belfast is having some of his mates over from Ireland for his birthday so we're taking them out on the town. Oh, and one of my best-friends Megan is coming home for the weekend so I'll hopefully be nabbing her for a few hours and a cuppa, before she goes back to Leeds and does lawyer-y things...
So I'm overloading myself with tea and paracetamol today. Hoorah!
Again, I'm so happy to have newbies here - I love to hear from all of you by comment,
email
,
Twitter
or
Formspring.ME
.
I love questions, comments or if you'd even like me to review your product! Get in touch, I'm nice, I promise!
Muchos love,
MessyCarla.
PS: If you ever see
MessyCarla
mentioned in another blog/website PLEASE let me know! :)