Hey everybody. It's been a bit of a lazy, duvet day for me today as I've been a bit ill with my stomach condition. It's been all about my *
I HEART London*
hoodie, unwashed hair, dry cereal, hot water bottles, naps and
The Office
boxset. That show ALWAYS cheers me up. I need to get my hands on series 4 to 6.
Anyhoo, this is my outfit from yesterday when I went to university to run an errand, then me and the boy had a coffee and DVD date:
TUNIC: New Look, £14ish. (bought in my last post)
JEGGINGS: Dorothy Perkins, £Present from my mam.
NECKLACE: New Look, £Present from my friend, Claire.
BELT: Matalan, £8ish.
SHOES: Dorothy Perkins, £12.
POINT OF FASHION: Nautical #2. (Nautical #1 was my first ever Outfit Post here!)

The boy was very good, and admired my shoes. TAKE NOTE, MALE POPULATION! :DD
The only thing that could have pulled this outfit together a bit more was my red hairband, but I've been wearing it SO much lately, I thought I'd give it a rest.

It's been a good couple of days for this blog. I was contacted by the lovely lovelies at Simply Be, and twittered by New Look, so I came over all fangirlish.
My friend Catey asked me on Facebook if I do anything other than shop. I had to admit there wasn't much. Oh dear!

I've also been asked to do an interview about the blog and fashion for a lovely boy called Joe's journalism dissertation. We met at Halloween (where better to meet funny, creative people?!) where he was dressed as Lady Gaga: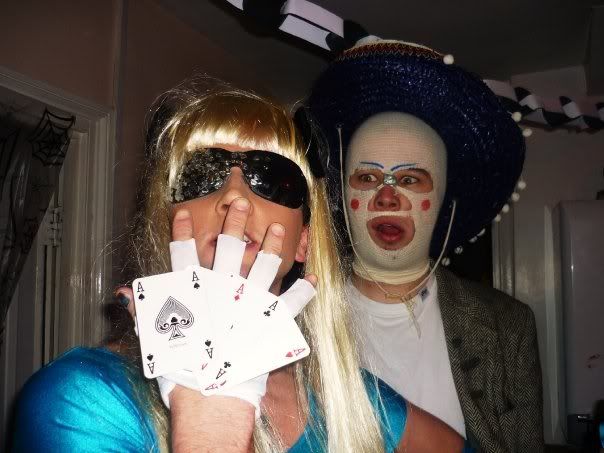 He won't mind me saying that he's got a cracking pair of pins for a guy! There were some creative outfits that party, I tell ya. I wish I'd done a post about it then - I kept meaning to, but it was around deadline time. Heh, when is it not for me, lately?!


So tomorrow I'm getting sushi with the boy before Yo Sushi's 40% offer runs out.
For the rest of the week, my Television Studios class begins again this week which I love so much, and I'm showing a bunch of potential Media students around campus on Friday. On Saturday there's an exhibition in Newcastle of 1960s photography that Sam wants to go and see, so I'll be going into art-girl mode and accompanying her.

Don't forget to keep getting in touch. I've had another surge in followers lately, which I'm so grateful! It's what it's all about and I'm so appreciative of all you guys. So either comment, email or ask me a question anonymously at Formspring.Me!

Muchos love,
MessyCarla.


Off-topic, but if you're interested in student projects, this is our television pilot from last year. We created a lunchtime show a-la Loose Women, but for men. The awesome presenters are my mates Dan, Liam and Dane - plus my best-friend Sam makes an appearances as a guest!
Also the boy (who is a graduated film student) has started a film blog over at Obscurity Musings. I know a lot of you on here love your film, so go and give him a read? :D