First of all, I hope you've checked out
this wonderful article in the Guardian today about plus-sized fashion blogs
. Some of my favourite blogs are referenced, which is simply wonderful. And I have some of the outfit posts from her here on the
Fatshionista Flickr
, and recieved some lovely tweets and messages today - including one from
Simply Be
, which is AWESOME!
Back to here, business - another outfit post for you all - I wore this to a Nandos catch up date with one of my best friends, Claire: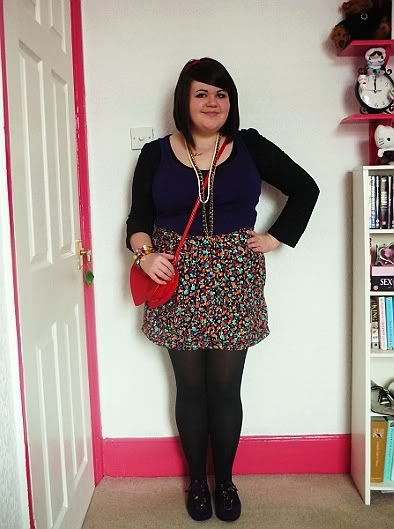 TOP: Dorothy Perkins, £8.
SKIRT: Dorothy Perkins, £12.50.
NECKLACE (short): Accessorize, £5.
NECKLACE (long): New Look, £8. (It was hanging weird - sorry!)
BRACELETS: New Look, £8ish.
BAG: Topshop (but bought from Lillian Funny Face's sale), £10.
HAIRBAND: Can't remember, sorry!
TIGHTS: Primark, £1.50
SHOES: Dorothy Perkins, £15.
POINT OF FASHION: Ditzy.

We went shopping afterwards (Claire is one of the few people I can shop with without going crazy as we know each other's styles quite well now) and I got a few necessities - like another plain black top I can layer with things, some stuff from Lush and this gorgeous little tunic from New Look: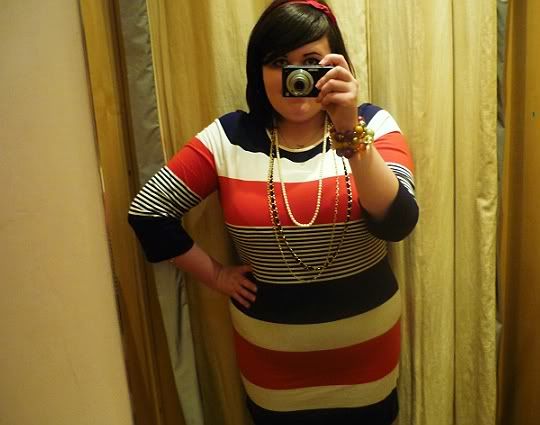 It's more tight-fitting than things I usually wear - but I'll be brave! I just love it, it's so nautical - but more grown-up than the nautical (aka: "Sailor Carla"...oh God - I will one day do that video logging my looks from age 11-present!) look I had when I was about 16. I'll probably team my big belt with it.

I go back to uni this week - my first week means I'll be hiding in big hoodies, jeggings and boots. I hate first weeks back, they seem to drag on forever and I ALWAYS get freshers flu! ALWAYS! Oh well. :)
And now time for a little pimpin' love - my friend Maxine recently set up an online shop - Little Miss Delicious - with lots of kawaii-style jewerelly. I especially love the foodies stuff - remember this early post, yes? I think this happy buttery toast necklace is my favourite: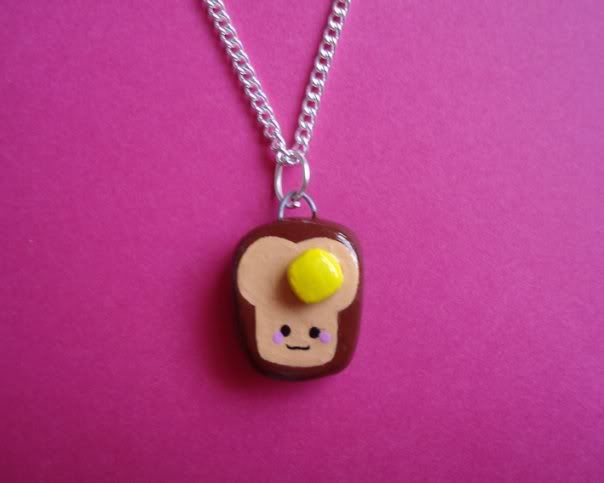 So be sure to check her stuff out!: http://www.etsy.com/shop/littlemissdelicious.
Anyhoo, I hope you're all good! It's been a good week.
Muchos love,
MessyCarla.