Hi everyone!
So I was the winner of New Look's tickets to
The Look Show
, one of the first fashion shows to feature high street clothing, and perfectly in time to kick off London Fashion Week.
The event was held at the wonderful Saatchi Gallery in fancypants Chelsea. Our taxi driver was hilarious, and was telling us all sorts of funny stories about the people he's driven around the area – and he loved our Geordie accents, so took a pound off the total fare! Nice!
When we got there, there was a fairly sized queue forming to get in – all featuring gorgeous girls of all shapes, sizes and age, so we knew we were in the right place. There was even a red carpet rolled out, which felt very glamourous!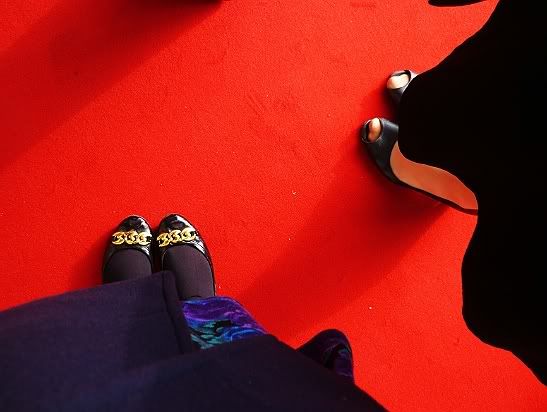 ME: I'm going to call this one 'Cheap Shoes On The Red Carpet.'(I love how Georgina de-tagged herself from this picture on Facebook as "nobody wants to see my Pricess Shoes!" Oh, George! ;DD)

Inside, champagne was being served which was fizzy and delicious. All the major high street stores were showcasing their new range – one of the best features being they were the clothes currently featuring this season. So I could literally have seen a dress at the show, then went to New Look around the corner and got it the very same day – a big first for fashion shows.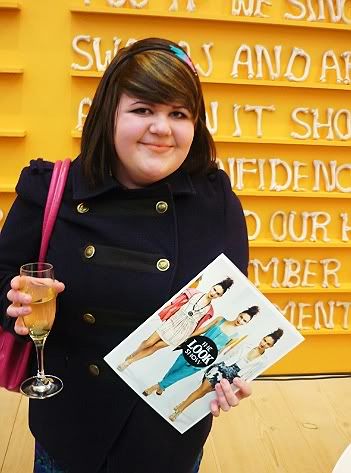 Me and my friend Georgina mingled around and did some celebrity spotting – we spied Liz McClaron (from Atomic Kitten), Keisha Buchanan (from Sugababes), The Saturdays and Beverley Knight (who I also saw at an event the next day – she was so sweet and lovely, and wanted to buy everything for her next television appearance, which was funny!). It completely wasn't what I expected a fashion show to be like – with people looking down their nose at you. Everyone was very pleasant, and there was a buzz of excitement.

After an hour or so (and a few too many glasses of fizzy pop!) we took our seats. Thank you New Look for securing us such an awesome view – front row at the start of the runway! The models were all provided by Elite Models in London and were all stunningly beautiful – although the show was kicked off by supermodel Erin O'Connor!

My favourite collection was by River Island who closed the show. Very creative outfits for the high street - some of theme wouldn't have been out of place at a high fashion event. Very quirky, a lot of them Alice In Wonderland/fantasy themed. Some, like this, was just punky and festival-chic!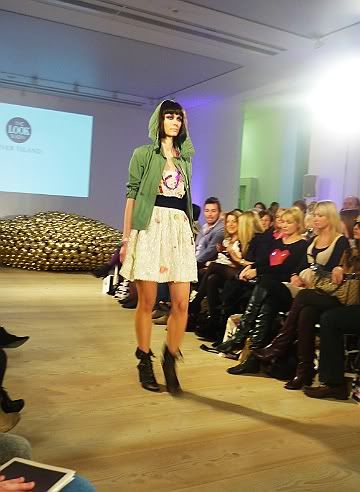 I'm DEFINITELY going to start wearing my party dresses with parkas!
Dorothy Perkins didn't disappoint, and I was so happy when my favourite dress was featured in the show: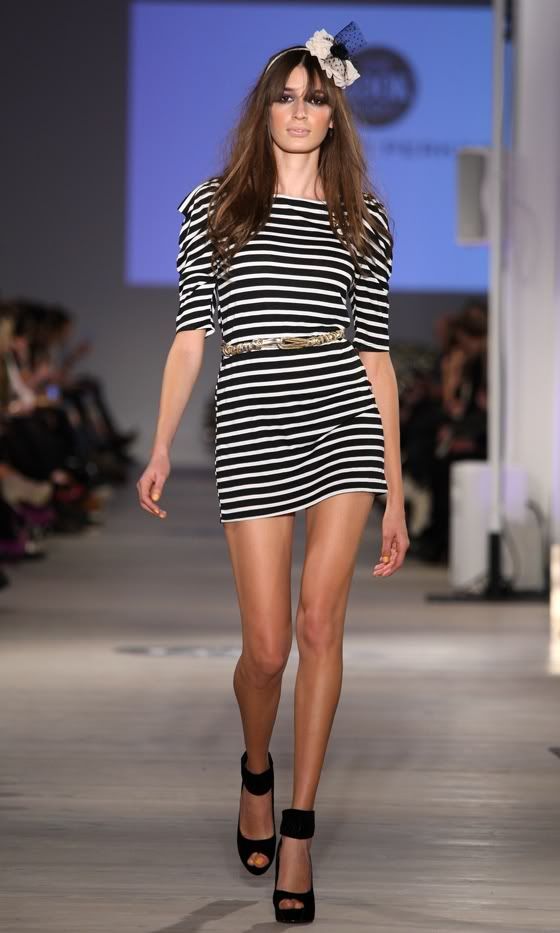 The show was also given an extra bit of sparkle when Pixie Lott came out in a cute black dress and performed an acoustic version of her hit single 'Cry Me Out'. She was amazing!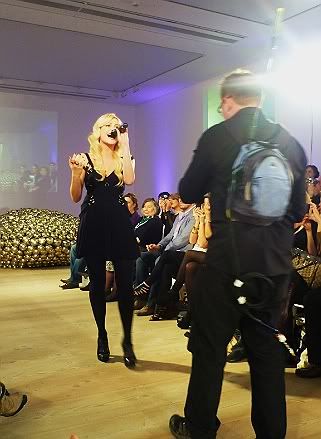 After the show, pink champagne was served and we got our goodie bags which were designed by Olivia Rubin. Inside were accessories from all the retailers, vouchers and chocolates – yum yum!
The modelling agency even gave out adorable pink glittery cupcakes!
I loved the irony of models handing out cake...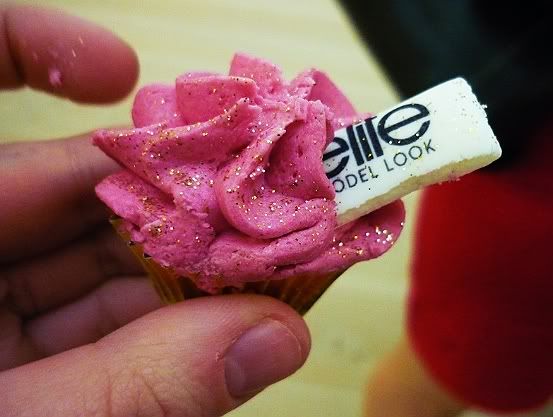 I chatted to this model after the show, and she was really sweet and friendly – even nabbing a goodie bag for herself, saying she hardly got them to keep herself in her line of work.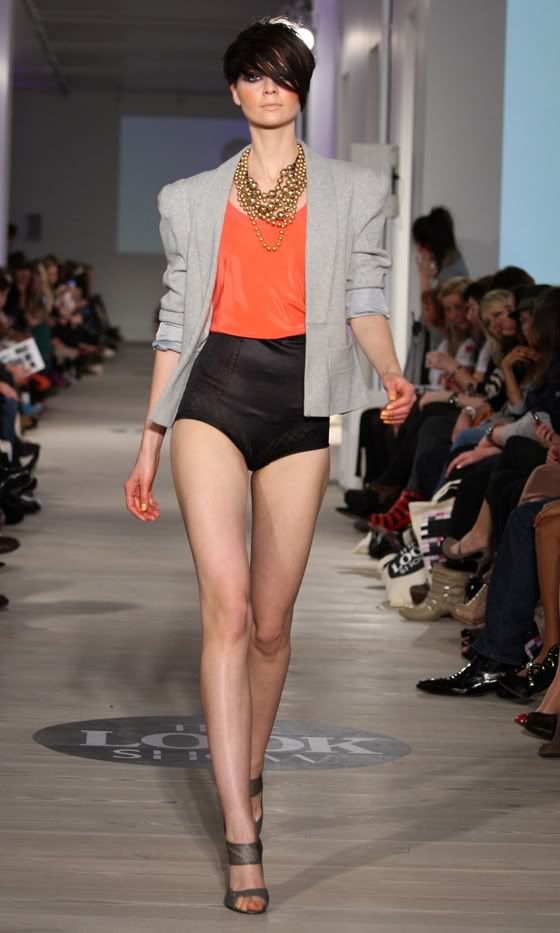 She was very smiley off the catwalk, teehee!
Oh! And to top it all off – I ended up winning second prize in the raffle. First prize was the 'Alexa' Mulberry bag, but second prize was a massive Toni & Guy goodie bag – including a hairdryer, straighteners, products and £100 worth of haircuts.
I was so happy, as I never win anything usually!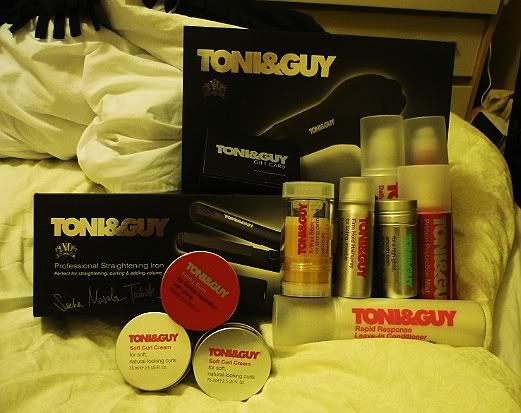 Haha WELL DONE if you've made it all the way through this entry - I know it's rather picture-heavy, but I didn't want any of you guys to miss anything!
Next, I'll be doing an entry about designer
Bernard Chandran's
party I got a last-minute invitation to. Fabulous times! I wish I could do this kind of stuff everyday!
Muchos love,
MessyCarla.
PS: EXTRA special thanks to my childhood friend Georgina for being an amazing plus-one! You'll see more from Georgeface in the next post.
ALSO remember that you can watch the entire show for yourself
HERE at Look.co.uk
! And complete coverage is going to be in next week's issue of the magazine.