Hi everyone,
Just a quick update to let you know I'm back from my weekend at the launch of London Fashion Week.
I ended up staying an extra day as I got a last minute invitation to another event. I have to do my guest blogs first - writing about The Look Show for
Future Fab Fashion
(New Look's blog) and Bernard Chandran's party for
The Sassy Minx
, who have been
so kind as to feature this blog in the past
. (Author-girl
Lisa Clark
was kind enough to let me go in her place as she's working hard on finishing her new book!)
So I'm going get my journo-girl hat on today, and knuckle down with some writing - so I can get round to telling you guys all about it. Hang tight!
I got interviewed before I went into The Look Show on Saturday, and found my quote scattered around a few articles.
You can read it here - hoorah, exciting stuff
! Pity she didn't include the link to my blog though - oh, well, at least I still got a mention, non?
You may have noticed a few changes around here? Do you all like the NEW LAYOUT? It's by the wonderful
Janis from PinkSugarIchigo
and it's absolutely fabulous! I've loved her scrapbook-style graphics for years now, so it's wonderful to finally have her create something for me. Thanks so much, hun!
And this layout isn't the only thing that's had a bit of a change. How do you peeps like the new hair?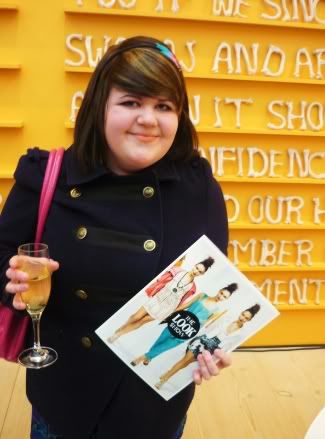 I thought spring is coming, so why not get some highlights in for texture. Also, you can't see very well but my fringe is slightly shorter and easier to handle.
Anyhoo I think that's all for now! Your lovely comments are always welcome and make sure to follow me on
Twitter
, and I'm going to be starting an official Facebook page soon, so you'll know when there's a new blog post straight to your news feed.
Muchos love,
MessyCarla.