I'm planning eventually to do a Christmas/January sales haul post, but I just had to share these two brilliant finds with you guys, from River Island's sale. They had 1/2 price off ALL marked sale items. And I got...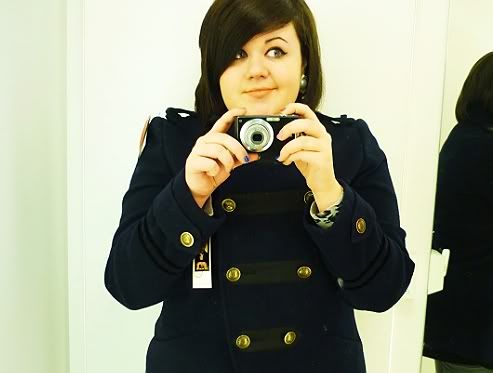 This wonderful military-esque coat! Originally £70, down to £50 - half price was £25! BARGAIN! It's so warm, toasty and fitted. My dad keeps calling me Sgt Pepper, when I wear this!
Then came this fabulous little find:
I've wanted a playsuit for AGES, but never found one that flattered me. This fits like a sexy little glove, and I think it's adorable. I feel like a backup singer for Hyperbubble when I wear it.
Was originally £45, marked down to £11.25 as it is missing two buttons from the chest, one from the belt loop and one from the back. But easily fixable - especially as it came with two spare buttons! And because it appeared to be a returned item...£5! A FIVER, I TELL THEE! This is like when Sam got that Topshop dress for a fiver all over again!!

In other news, I've recently been experimenting with different shades of lipstick. I have decided that...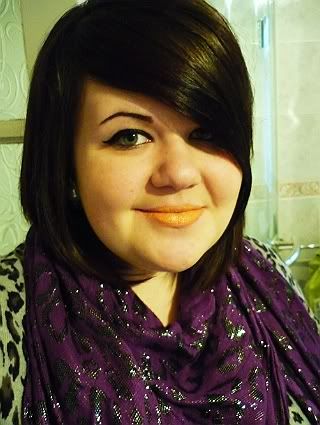 ORANGE is the new RED!!
Even my dad commented on this colour, and he NEVER usually notices stuff like that.
Thank you for all your suggestions and comments on the Film Inspiration series - some of you even guessed some of them that are coming up in the series! Great minds think alike! Keep commenting and emailing - you know I love you guys.
Muchos love,
MessyCarla.
EDIT: The beautiful Lillian from http://lillianfunnyface.blogspot.com/ is having a sale of makeup and accessories to raise money for the Haiti disaster. She's got some cracking items going and it's a great cause, so if you guys could support her that'd be brilliant.