Hi everyone.
I came up with the idea last night
(during that amazing time at about 3am when you feel really creative...that's when I have creative bursts anyway!)
that I'd love to do a series here, with
outfits inspired by my favourite films.
Outside
MessyCarla,
I am predominantly a Media student, and film is one of my major passions in life. So I thought to start us off, I'd go with my favourite film of all-time:
A Clockwork Orange
.
Despite being a huge fan of films previously (my dad has taken me to the cinema since I was about 4-years-old), when I first watched this when I was about 13 and it completely changed everything - a film had never made me both disturbed and mesmerized before!
I wanted to know everything about it; not just about the stars - but how it was made; the meanings behind the cinematography, where the strange language the droogs speak ("Nadsat") originated, the ideologies about the strange story. Film for me was never the same again.
I've said in previous entries that things like music and film have inspired my dress and for
A Clockwork Orange
, this was definately true. I bought a vintage bowler hat with my savings, and when I'd meet my friends in town on Saturdays I'd paint a fake eyelash onto my right eyelid, just like the main character, Alex DeLarge.
My mam was a bit weirded out that I was "obsessed" with such a controversial ("and OLD") film at such a young age, but as I pointed out - it was healthier than being a 13-year-old who hangs around the park drinking cider and smoking!
So here's a lovely A Clockwork Orange inspired outfit for all you lady-droogs out there: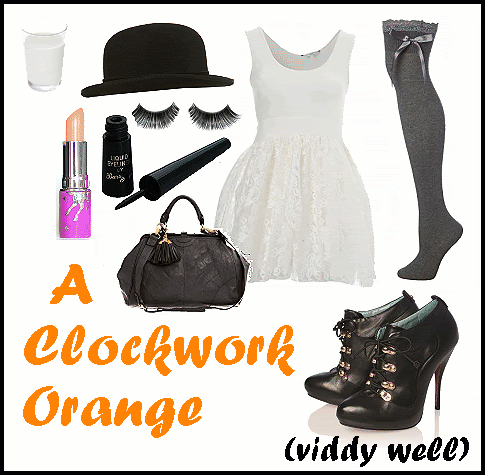 I've definately feminised the original outfits of cricket shirts and codpeices. And instead of walking canes with knives hidden inside (which is, frankly, rude), I've given you a fabulous bag instead!
DRESS:
New Look, £28.
SOCKS:
New Look, £5.
BOWLER HAT:
Topshop, £22.
BOOTS:
Kurt Geiger, £160.
BAG:
ASOS, £65.
FAKE EYELASHES:
Boots, from £1.99.
EYELINER:
Barry M (in 'Black'), £4.50.
I'm currently putting together some ideas for other films I'd like to include in this series.
But first - over to you guys!
Have any films inspired the way you dress?
I'd love to know, so either comment here or email me. I ALWAYS read them and respond!
Muchos love,
MessyCarla