ANOTHER Outfit Post?! Oh yeah! I told ya'll I'd improve!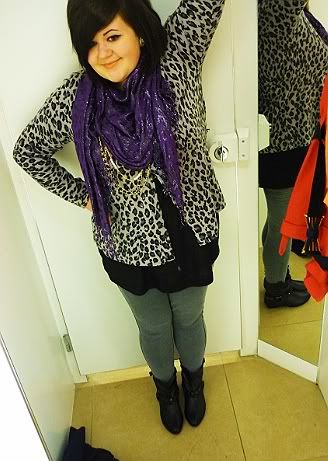 (Apologies for the awkward changing room pose! Heh.)
TOP: H&M, £9.99
CARDIGAN: George @ Asda, £10.
SCARF: Primark, £3. (from this post/video)
NECKLACE: New Look, £8. (from this post)
EARRINGS: Topshop, £4 (sale).
JEGGINGS: Dorothy Perkins, £12 (sale).
BOOTS: Fenwicks, £25.
POINT OF FASHION: Leopard Print.
Just a quickie today (ooh la la!)
I've been getting lots of lovely comments and emails lately - thanks so much, guys! Some of you are emailing me with fashion advice, and I hope I'm helping!
As ever, I'm taking questions over at http://www.formspring.me/messycarla - this is especially useful if you want to ask anonymously.
So whether you always comment, or you're a first-timer - get in touch, I love hearing from you all. You're lovely. <33
Tomorrow I'm having a girlie sleepover at my friend Hattie's house - with our friend Sam and also Megan is coming from Leeds to see us! Can't wait, I always have so much fun with them. And Hattie's hinted that she's cooking - for such a little, waif-like person, she's a BRILLIANT chef! Mmm.
Then on Saturday I'm out for a few fizzy pops with my friend David for his 21st birthday, then Sunday I'm seeing Reel Big Fish with my dad.
Coming up soon is an interview with the darling Claire from French For Cupcake.
So excited! Be checking out her blog, as she's got fabulous taste (and bakes amazing treats - what's not to love?!)
Muchos love,
MessyCarla.