I'm trying to get back into the swing of doing proper, regular Outfit Posts again. It's what I originally created this blog to log (hey that rhymes!) in the first place, and everything else kinda came afterwards.
Anyway, I wore this today to meet my boy for a Starbucks date: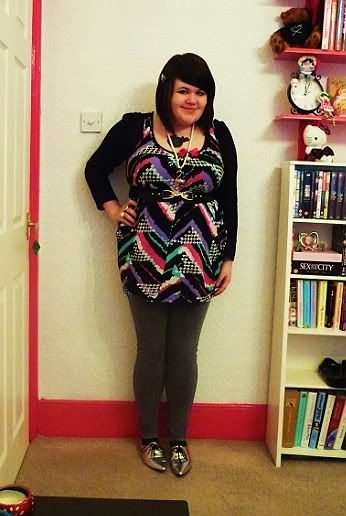 TOP (OVER):
Dorothy Perkins.
TOP (UNDER):
Primark. (
from this post
)
BELT:
Miss Selfridge.
NECKLACE (LONG):
Topshop.
NECKLACE (SHORT):
Heidi Seeker.
RINGS:
Topshop and vintage.
HAIR CLIP:
Heidi Seeker.
JEGGINGS:
Dorothy Perkins.
SHOES:
Vintage.
POINT OF FASHION:
Electrokid v. 2.0.
When I was about 17/18 years old I was into electro/synthpop/new-wave music in a biiiiig way, so dressed like a big pretentious electrokid: neons, plastic jewerelly, home-made accessories using mix-tapes, angled fringes, robot dance moves, customised Converse, glitter eye-makeup for college...yeah. I know. Sheesh.
This is a more toned down version of the outfits I used to wear. Probably because lately I've been listening to a lot of the music I did then -
Robots In Disguise
,
The Epoxies
,
Freezepop
,
Ladytron
,
Hyperbubble
,
Client
and
Helen Love
. Be sure to check them out if you like pop stuff!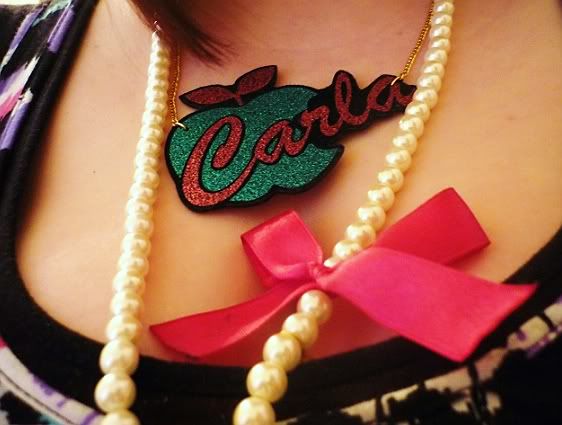 Close up of the necklaces. My bedroom is really hard to photograph well in and I don't know why. My pictures always turn out kind of mottled - so sorry about the quality of these photos!
Remember I'm taking all your questions over at
http://www.formspring.me/messycarla
.
Keep your lovely emails and comments coming, I love hearing from you guys!
Muchos love,
MessyCarla.
PS - If you guys could pass the link for my blog around your own blog/MySpace/Facebook/MSN/Twitter etc that would be AWESOME!
If I get enough followers I'd love to start running sweepstakes and stuff! xxx