Wow, I'm rather on fire with these outfit posts. Finished editing that project and handed it in today, so the more creative blog posts can start again - including the second installment
in the film inspiration series
.
However, this was from yesterday. I wore it for a BLT date with the boy: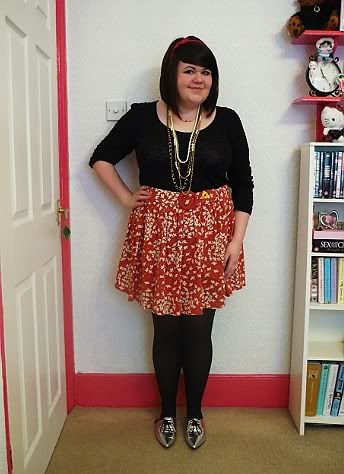 TOP:
Primark, £3.50.
SKIRT:
New Look, £12ish.
NECKLACE (short):
Accessorize, £8.
NECKLACE (long):
New Look, £8.
HAIRBAND:
Can't remember, sorry!
TIGHTS:
Dorothy Perkins, £5.
SHOES:
Vintage, £11.
POINT OF FASHION:
Suburban ballerina/birds.
You all know by now
that this is my favourite necklace
, ja? Well disaster struck after I took this picture - one of the strands snapped and broke! It's still wearable, but I miss having four necklaces in one!
Also about the skirt - notice anything a little off about it? No? There's a tiny yellow badge on the belt (from Lady Luck Rules OK) that I use to keep it in place - it unties otherwise!
I'm being a bit of a social gal for the rest of this week: seeing my old friend Claire tomorrow for a cheeky Nando's, work on Friday (I'm a Student Ambassador for my university and LOVE my job! - final year is just too busy to do a lot of shifts at the moment, unfortunately) then have another sleepover planned for the weekend.
In other news, the new layout is in the process of being designed by the beautiful and talented Janis @
PinkSugarIchig0
.
She sent me a sample today and it's looking fieeeeerce! I can't wait to see the finished result!
As always, I always welcome your lovely comments,
emails
and
questions over at Formspring.me
. Get in touch with my about anything and everything - I love post! ;)
Muchos love,
MessyCarla