I was just browsing through some photos, and came across this taken just one year ago exactly - 15th January 2009: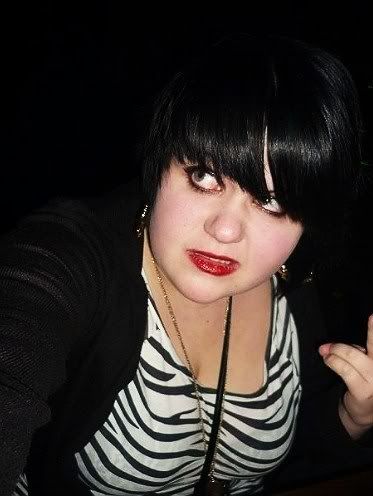 It doesn't even look like me! I still had fairly short hair I cut myself, that I thought was a way of saving money - really it made me look like a Kelly Osbourne/Beth Ditto wannabe! Oh, well. We live and learn. I miss my ghetto gold earrings, though! The badly applied lipstick...not so much. I used to dye my hair blue/black, which I loved - but now, for the first time since I was about 12 I'm letting my natural colour come completely through, then I'm getting blonde highlights!
I'm actually planning a video pretty soon all about how my style has evolved through the years. I know I'm definately not the most fashionable girl in the world, and I've got it rather muddled throughout the years - but that's the beauty of it for me. I don't believe in fashion faux pas - I believe you should have the guts to try a style once. At least you have hilarious photos to look back on in years to come - God knows, I do!
My style has always been influenced by what I'm currently obsessed with - for example music or films. But I won't give too much away, I'll save it for the video where I'll dig out lots of embarassing photos for you guys. (I've had a little surge in new followers - s0 hello to you all! I do appreciate you checking this blog out, you know. <33)
In other news my mam found me this little gem today: a cute fascinator/hairband in Asda for an amazing £1.25 in the sale! Thanks, mammy!
Today was deadline day at uni, so that's mostly out of the way for now - hoorah!! Then on Saturday I'm going out on the wonderful Newcastle Gay Scene for Sarah's (of QuirkyFace) 21st birthday, which will be full of glitter, hugs and dancing with beautiful, eccentric people. I'll try to take pictures of all the fabulous outfits I know folk will be wearing. If I don't have too much fizzy pop, oh noez!!
Muchos love,
MessyCarla.