Do any of you guys do what I do?
When I have a favourite necklace, I more or less wear it with every single outfit! Morning, evening and night...even though I have plenty of perfectly wonderful necklaces! This one is still my current favourite. It's from New Look and only cost £8: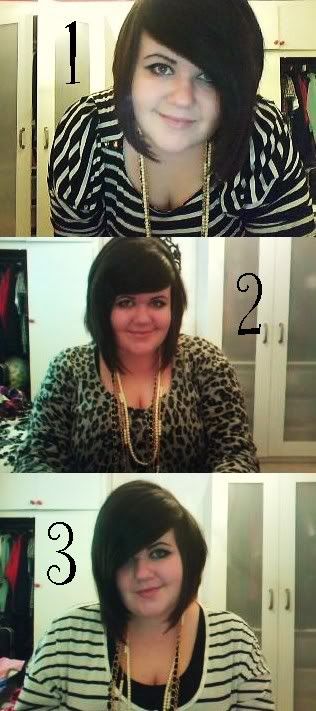 See! And these were just random webcam pictures I've taken over the last few weeks.
NUMBER 1:
Is with my Dorothy Perkins dress, £25.
NUMBER 2:
Is with my George @ Asda cardigan, £10ish.
NUMBER 3:
Is with my H&M t-shirt dress £10 and River Island top via Ebay £3.50.
Number 3 is also what I was wearing on Christmas Day (Gosh, doesn't it seem ages ago, already?) - the webcam didn't pick up the drag queen-esque amount of glitter eyemakeup I was wearing.
Speaking of which, I'm USELESS with applying makeup creatively, but my friend Sarah who is a drag king (amongst many other things) has just started a makeup blog, to be sure to follow her over at
QuirkyFace
! I forget how fabulous she is - our friend Natalie held her annual meetup party just before New Years, and Sarah sassied in looking like a cross between Dame Shirley Bassey and Lena Lamont from
Singin' In The Rain
! So yeah, be sure to follow her blog!
Sorry for the lack of my usual posts - it's deadline time at uni at the moment. But this should clear up majorly within the next few days.
My (new-ish!) boy is threatening me with a lovely date of coffee, cupcakes and museums. I really should get my essays out of the way and be a good girlfriend. For once.
Muchos Love,
MessyCarla.
EDIT:
I forgot to say
A BIG THANK YOU
for the lovely emails I've been getting! Don't be shy if you want to get in touch with me - I'm nice, I promise! :)
EDIT #2:
Oh, one more thing. I don't know if any of your guys still use MYSPACE, but I started a MYSPACE page for you guys, so you can keep in touch with me there, too!