Hi everyone.
I decided to do something a wee bit different - as much as I love fashion, my other passion is beauty products. And I've been DYING to check out
The Body Shop's Originals range
, so I treat myself to some lovelies: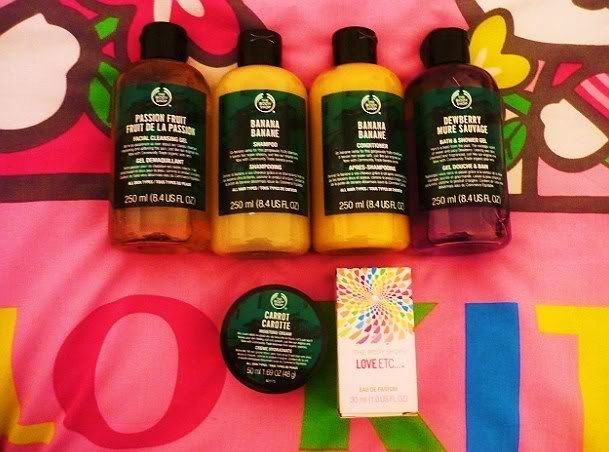 The thing that's so special about the Originals range, as they're The Body Shop's founder Anita Roddick's favourite products from the 1980s - and so being born in 1989, I missed out on all the fun, first time around!

I got myself:

PASSION FRUIT FACIAL CLEANSING GEL:
I have quite sensitive skin, so I'm always wary about trying new facial products. But this didn't irritate my face at all, and my skin felt bright and glowing afterwards. My only suggestion is that it would work better with exfoliating beads, for that extra scrub!

BANANA SHAMPOO/CONDITIONER:
Again, I wanted to try something I wouldn't usually get. I wasn't too sure about it at first - the smell and colour reminded me of the antibiotic stuff you'd get from the doctor's when you were a kid! But when I tried the shampoo, it gave me a lot of lather with just a small amount, and my hair looked shiny and healthy - even though I usually stick to 'volumising' products. I don't use much shampoo, as my hair is rather fine, but I just applied it to my poor split ends and it perked them up a bit. I'd definately recommend the shampoo, anyway!

DEWBURY SHOWER GEL:
I've heard that this one was really popular during the 1980s, and is the one women are wanting to return the most - and it's got a really fresh, fruity smell! I'll definately use it more when I've gone through my Christmas stash!

CARROT MOISTURISER:
OMG WHERE HAVE YOU BEEN ALL MY LIFE? This was recommended to me by a friend, and I was a bit cynical because, well, it's carrot! The thing you have with sunday lunches! But it's probably the best moisturiser I've used - it's very thick and luxurious feeling, but doesn't leave a greasy residue on your skin like a lot do.
AND - proof that this is a brilliant product. I put this on the night before I had a first date with a rather lovely boy, and he mentioned when we got to the hand-holding part that my hands and arms were very soft. And when was the last time boys started noticing this? EXACTLY!

LOVE ETC EAU DE PARFUM:
I decided to treat myself to this adorable little purfume. Although I got Daisy by Marc Jacobs for Christmas (more compliments from the boy!), I wanted something more wearable on a daily basis, so I wouldn't use up the expensive stuff right away, and starting from £12 - this is perfect. Musky and delicious!

Have you tried any of the Originals range? Any I should have picked up also? I'm always love hearing from you guys, so please leave a comment or give me an email, the address is at the top of the page! Also be sure to vote on the website, as the winning products will be here to stay!

For more informotion about all the products, including individual prices - visit the official The Body Shop website. Plus, a youtube video for you all:





Muchos love,
MessyCarla.