Hi lovers. Sorry for the mini hiatus, I've been bogged down with a million and one things going on. Lots of shopping has been happening, however - so expect some outfit posts very soon! I'm mostly at home now, so I'm having to find another position for my camera/posing-ness etc. We'll see!
My staples at the minute are navy blue and white. Think summer nauticals, but with a glam, wintery twist with the addition of sparkly jewerelly and some heels: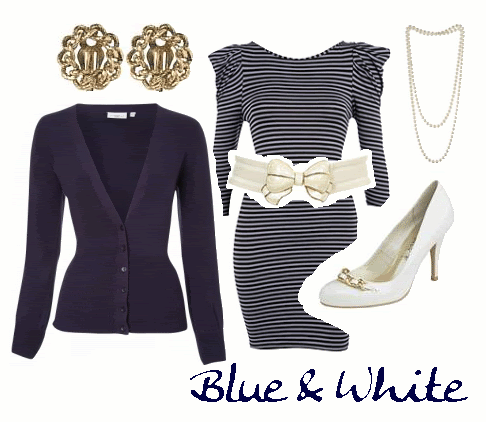 DRESS: Dorothy Perkins, £25.
CARDIGAN: New Look, £15.
NECKLACE: Dorothy Perkins, £7.
EARRINGS: New Look, £4.
BELT: Topshop, £22.
SHOES: New Look, £20.
Yes, I'm on a bit of a kick with Dorothy Perkins this season - their stuff is just so flattering with big shoulders and nipped waists. That dress looks simple, but is definately one of the most flattering dressed I've ever owned. I got the same design in a rose pattern, too - something I never usually do! I've also been wearing this dress a lot, which is so slinky and gives the impression of a tiny waist. Boss!
Anyhoo, I'll try and do some outfit posts this week.
Muchos love,
MessyCarla