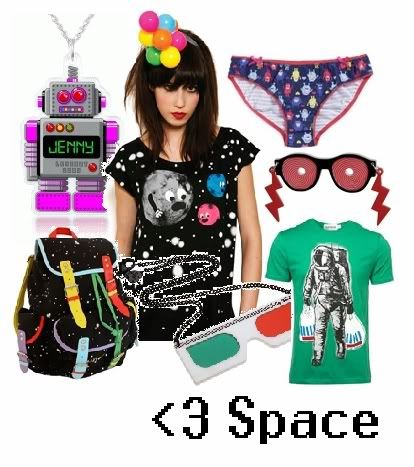 Earth is pretty boring at the minute, so I'm getting inspiration from the place yonder.
ROBOT NECKLACE: Punky Pins, £15.
SPACEMAN T-SHIRT: Topman, £12.
PLANET T-SHIRT: Lazy Oaf, £24.50.
BACKPACK: Lazy Oaf, £35.
KNICKERS: Accessorize, £8.
X-RAY SPECS BROOCH: Tatty Devine, £66.
3D GLASSES NECKLACE: Tatty Devine, £42.
Sorry for the lack of updates but I've had a mountain of uni work to do, as well as a jaunt to Poitiers in France to visit my friend Marie. I'll be back properly, soon. Going Christmas shopping tonight with my mam and sister to cheer myself up. (the mix CD I came home to from Ambar is helping loads too - thanks, girl!)
I also have a good few birthdays next week - good thing I love shopping for other people as well as myself!
Muchos Love,
MessyCarla
PLAYLIST FOR THIS OUTFIT:
The Epoxies, Hyperbubble, Polysics, Helen Love, Babylon Zoo, The Aquabats.