After a night of Nandos and X Factor, me and my friend Sam had a little shopping trip originally to find her a dress for her Halloween costume.

So we headed for the Topshop sale, and although I was supposed to be strictly looking for blue dresses, I picked out this lovely dress for her to try on in her size.

"I don't wear pink!" Said the horrified goth one.
"You'll suit pink," The expert insisted.
And look, she does!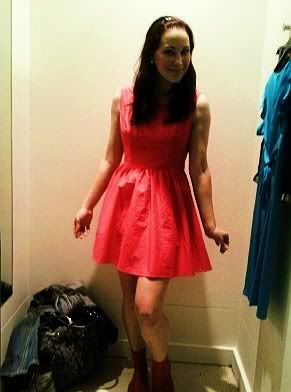 Sorry about the phone picture. And the socks! ;)
"I think you're the first person to see me in pink," She said. And now of course, you all are too. I convinced her to buy it, thinking it'll be about £20 in the sale. And when we got to the till - A FIVER!! I'm a genius, I tell you!
So just a little outfit post today, accessorising the new dress for Sam v2.0: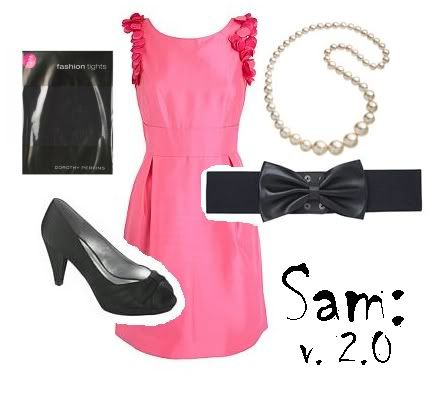 DRESS: (Sam's was £5 from Topshop. I wanted a proper picture though of something of a similar colour and cut, so this one is from...) Principles £99.
NECKLACE: Dorothy Perkins, £15.
BELT: French Connection, £35.
TIGHTS: Dorothy Perkins, £5 or two pairs for £8.
SHOES: New Look, £16.

Oh, and we managed to find her a blue dress for Halloween. A successful shopping trip makes for an ace Sunday.
Muchos love,
MessyCarla.