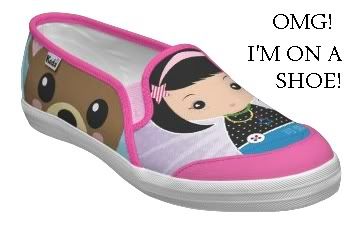 ZOMG this adoreable shoe has just made my Christmas list - doesn't the character remind you of somebody...? Black hair, big fringe, confused expression, lots of accessories? Hmmm.
The designer, Karla (amazing name, girl!) has an online shop which can be found here:
http://www.zazzle.com/lalloronax3
. And best of all, if you aren't too keen on the colour scheme you can change them yourself - how fab!
Muchos love,
MessyCarla.