Hey everyone,
I was very kindly invited by
Simply Be
to visit their
Gateshead store
in the MetroCentre, to have a look at their current collections.
I was shown around by Melissa, who asked what sort of thing I was looking for.
As I'm currently into quite a tailored looked with separates, we had a quick look for those - however the shop was full of pretty, printed dresses
(more on this later)
so of course I reverted back to my old ways, and soon enough poor Melissa's arms were practically falling off with the weight of them all!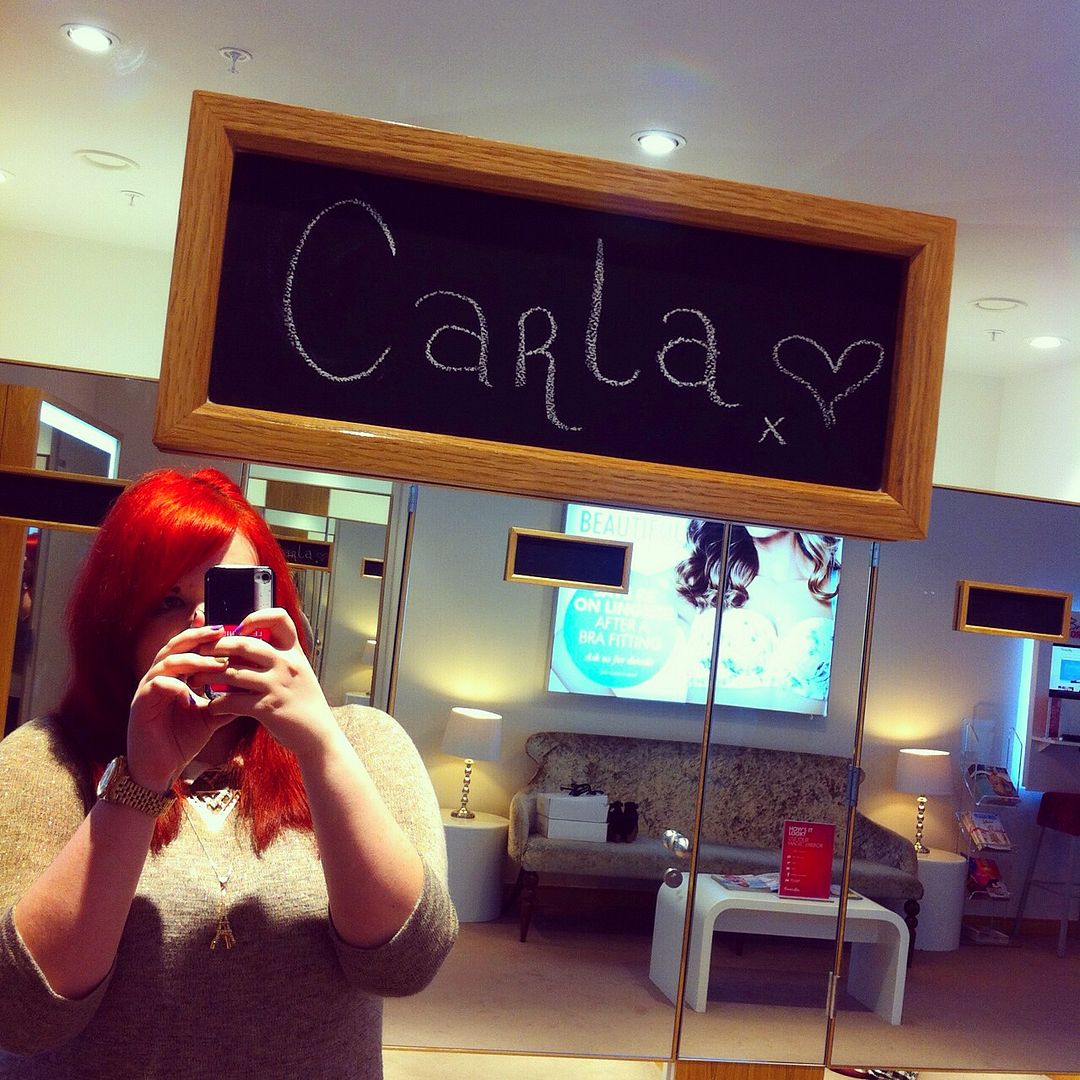 When I arriving in the changing rooms, my room already had my name on which was an adorable touch.
As you can see behind me, there was a big plushy sofa with brochures featuring the latest collections to browse through.
I also met sales manager Paul, who obviously knows the key to my heart as he came over with a cheeky glass of Prosecco.
(It will come as absolutely no surprise to regular readers of my blog that one glass turned into two or was it three…?)
I tried on a lot. A LOT.
However I've managed to narrow my favourites down to my top three: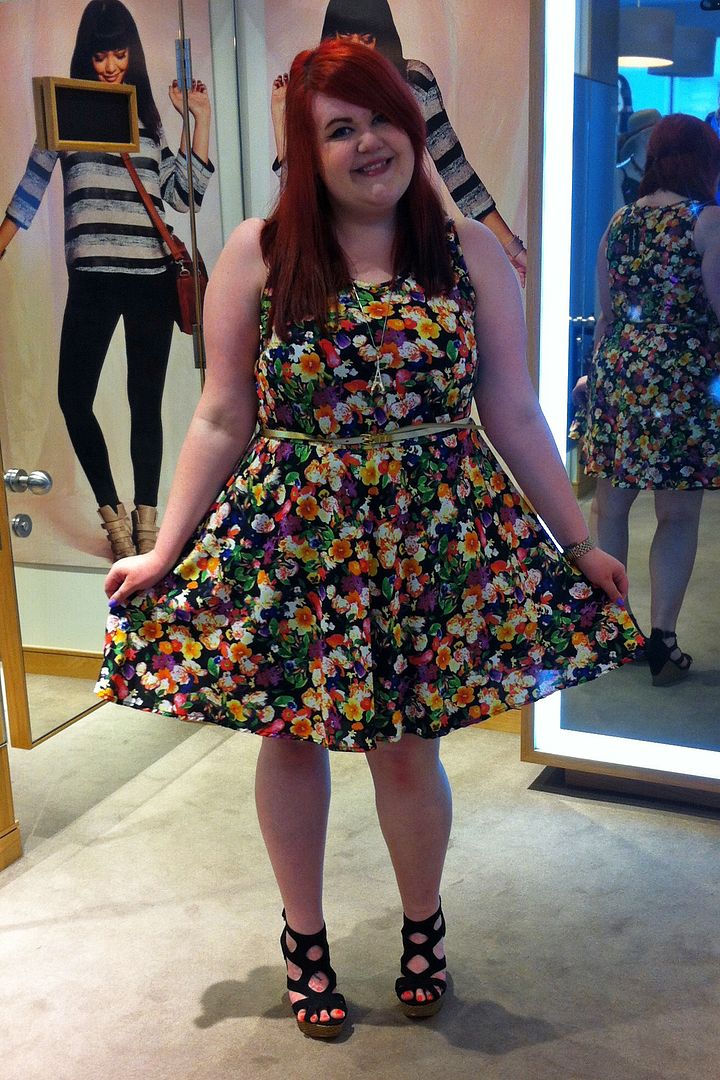 Like most dresses with elasticated waists, I had to size down (this time to a 14), however that meant that the tan belt it came with sadly didn't fit me.
Thankfully I'd brought my gold ASOS Curve belt with me as this tends to happen quite a lot, and I almost always prefer to wear one of my own belts anyway so it's no big deal!
However, I do already have a lot of floral skater dresses, so didn't go for this one.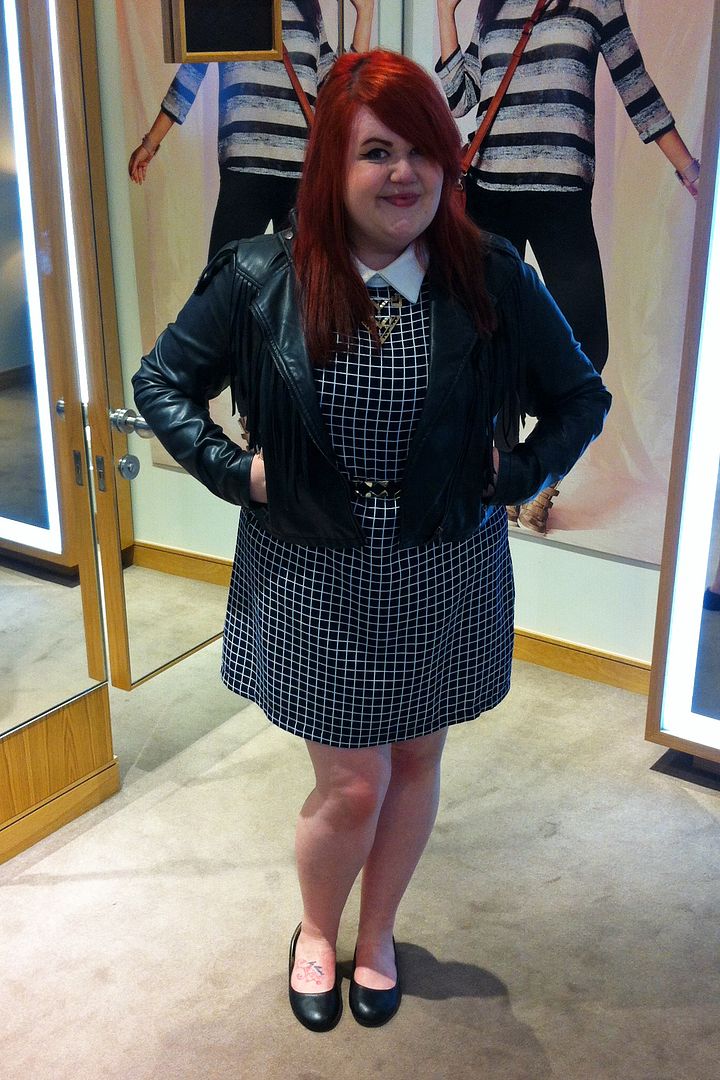 Now, I do love this outfit.
It's super-cute, and very 90s - think Heathers meets Courtney Love meets Clueless.
However being a shift dress, it is straight up and down and unfortunately I just didn't like the shape on myself.
It's quite small to size, which was surprising - the 18 was very clingy and uncomfortable, and the 20 (which I'm wearing above) was completely shapeless.
I know some girls can really rock this look, but I just don't think it suits me personally.
We did accessorise with a belt and I threw my jacket over the top, but I honestly wouldn't feel cute wearing it by itself.
I do know that some people will really own this dress, though.
However this is my very favourite dress I tried on, and ended up taking away with me...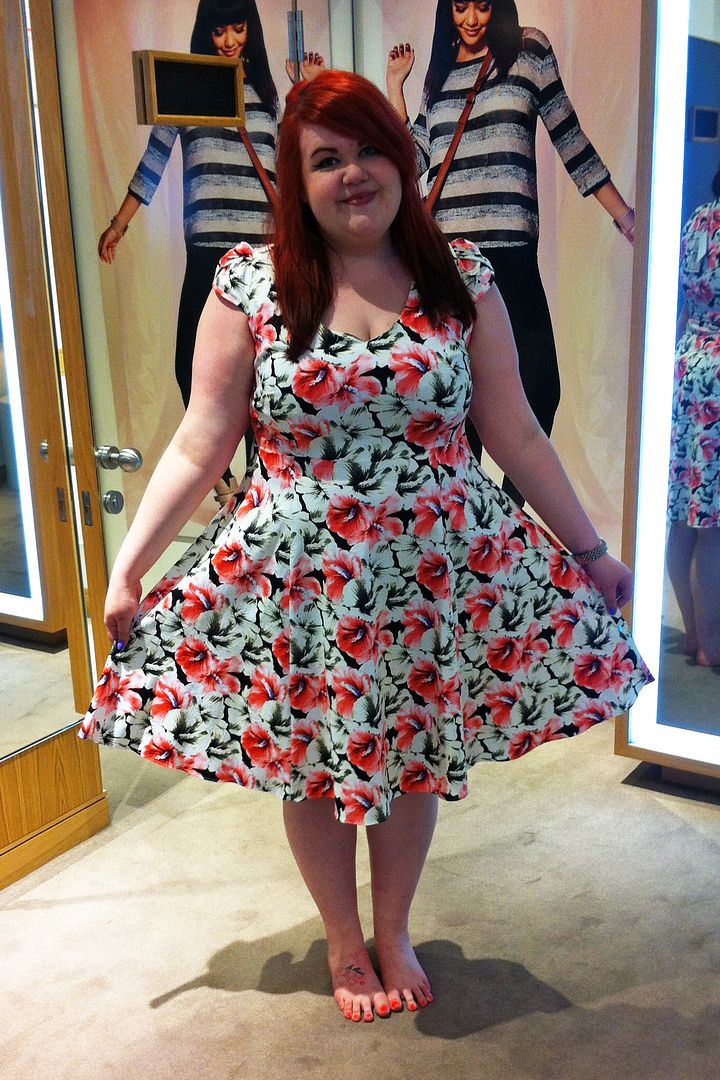 (WHERE R UR SHOEZ, CARLA?!)
I'm not going to lie - I walked right past this instore.
When Melissa held it up and told me it was a bestseller I was very surprised as on the hanger
(and also on the website)
it looks quite dowdy and frumpy.
However this was completely not the case when I tried it on, and it fit like a glove. It skims my bust, nips my waist and flares out beautifully.
This dress is very lightweight, being 98% cotton and 2% elastane for a little stretch - and it's going to be absolutely perfect for my holiday to Japan.
I always tend to think of Joe Brown's clothes as quite 'fussy' - not that that's necessarily a bad thing, but what always comes to mind is lots of clashing, patchwork-y prints.
But their summer collection has some beautiful, feminine dresses - other favourites are
here
,
here
,
here
and
here
, all of which would be perfect for a summer garden party sipping a cheeky Pimms.
Overall, I had an absolutely great experience.
I very rarely go 'in-store' shopping these days, making the majority of my purchases online simply due to a lack of availability in larger sizes.
Even with big high street names like New Look and Dorothy Perkins, I tend to find myself using their click and collect services more and more.
So it was a real treat to be able to go into a store where my size is carried 99% of the time (Simply Be's sizes range from 14 - 32), with beautiful changing rooms and friendly, positive, passionate staff.
It's obviously showing, with
there now being nine stores open in the UK
, and more planned to open over the coming months - the first being Belfast in August, reportedly followed by Cardiff, Dudley, Edinburgh, Norwich, Exeter and a flagship store in Oxford Street, London.
After I'd made my purchase I was about ready to leave, but Paul poured me another glass of bubbly (whoops!) and we had a natter about the stores which was very interesting.
I had no idea that Simply Be stores were able to choose what they individually sold - he said that party dresses fly off the shelves in Newcastle, whereas higher priced pieces
(such as bloggers' favourite: the pink biker jacker)
don't sell as well in our neck of the woods.
It was refreshing to talk to staff who were obviously passionate about that they were selling, and I can't thank Paul and Melissa enough for taking good care of me!
Muchos love,
MessyCarla
I was invited by Simply Be to take a look around their store. I was given a voucher to be put towards an item of clothing should I like anything. I was not paid by them to make this blog post, and all opinions are - as ever - my own!