Hey everyone,
As promised, here's a rundown of some awesome sounding local events happening in the run up to the festive period.
Christmas fairs and markets are a great opportunity to find unique gifts away from the high street, as well as supporting local and/or independent businesses.
Anyhoo, let's kick this off.
Be sure to add this page to your bookmarks so you can keep checking back anytime!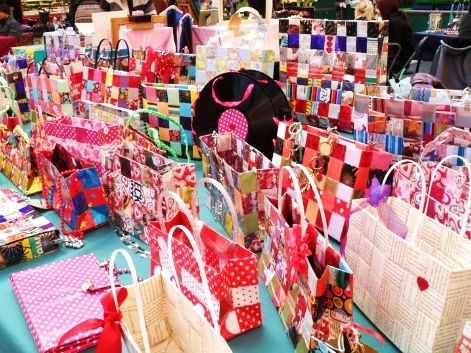 (♥)

October 29
th

Plus-Sized Clothes Swap
Although this event is based in Leeds - it's worth an honourable mention as it's being organised by Kirsty of Fatty Unbound.
Clothing swap event for sizes 14+

Upstairs at the Packhorse,
Woodhouse Lane
Leeds
50p Entry
FACEBOOK EVENT
October 29th
Designer's Marketplace - Newcastle
Showcase and sale of high-end wares. Fashion, art, photography, homeware, jewellery.
The Holy Biscuit
1 Clarence Street,
Newcastle
NE2 1YH
£1 Entry
FACEBOOK EVENT


October 30th
Pink O'Ween Craft Fair Extravaganza

Halloween/Bonfire Night themed event with stalls and auctions.

42-50 Bell Street,
North Shields Fish Quay,
NE30 1HF

50p entry (Children free)
All proceeds towards Breast Cancer Care and Breast Cancer Survival Trust
FACEBOOK EVENT


October 31st
Cake and Craft Stall

Stall run by 3rd year Ceramics students.
Asburne House is soon to be no more, and is a lovely old building (I took Photography classes there during my time at uni) so go and support some local Art students.

Ashburne House
Backhouse Park
Ryhope Rd
Sunderland
Tyne And Wear
SR2 7EF

All proceeds towards the students' final degree show.
FACEBOOK EVENT

November 5th
Newcastle's Affordable Vintage Fair
Event which comes around to Newcastle several times a year - but also visits most major cities. Check their website for your local events.
Sells vintage clothes and accessories from 1920s-1990s. Also includes local jewellery designers.

Northumbria Student's Union,
2 Sandyford Road,
Newcastle,
NE1 8SB

£2 Entry/£1 NUS & OAP. Under 12s free
FACEBOOK EVENT


November 5th
Make and Mend Market

Stalls selling jewellery, retro clothing and accessories, homeware and baked goods.

Grainger Market
Nun Street/ Grainger Street
November 6th
South Shields Fireworks

No an event per-se. But I go to this every year and it's so much fun!
The funfair opens for a day off-season, as well as lots of yummy things to eat.
Be sure to wrap up warm, it's always freeeeeeezing on the seafront.

Sea Road
South Shields
Tyne & Wear
NE33 2LD

Free entry.


November 20th
Bede's World Christmas Gift Fair

Stalls selling homeware, cards and local produce.

Bede's World
Church Bank
Jarrow
Tyne & Wear
NE32 3DY

Free entry.
WEBSITE


November 20
th
– 3
rd
December

Continental Market
Bi-annual event held in the centre of Newcastle.
Stalls selling the "sights, sounds and smells of Europe". I recommend the Dutch pancakes and French guys selling cheese!
Grey Street
Newcastle
NE1 7AL
Free entry.
7
th
– 11
th
December
Christmas Market
Similar to the Continental Market, but has a lot more stalls selling 'gifty' things for Christmas.

Grey Street
Newcastle
NE1 7AL

Free entry.
10
th
December
The Canny Comic Con


SO gutted I'm going to have to miss this. A small festival of comics and art.
Also includes
talks, panel discussions and workshops.
Newcastle City Library
33 New Bridge Street West
Newcastle upon Tyne,
NE1 8AX

Free entry.
FACEBOOK EVENT
If you know of any more, please leave a comment or
send me an email
and I'll be happy to add it to the list!
Muchos love,
MessyCarla.