Hey everyone,
Jeez Louise, where did this sun come from?!
Have all of my fellow Brits been enjoying the beautiful weather?
It's apparently the hottest Autumn day in over 100 years!
God, how hot much it have been under all those petticoats?
I've unfortunately been working for most of the beautiful weather, however a few days ago the afformentioned Ann Summers Roadshow hit the Metro Centre and I was invited along as part of their Ask The Stylist section.
More on that later.
It was a fantastic opportunity to FINALLY wear the gorgeous
floral shrug
sent to me by the lovelies at
Ella-Tino
: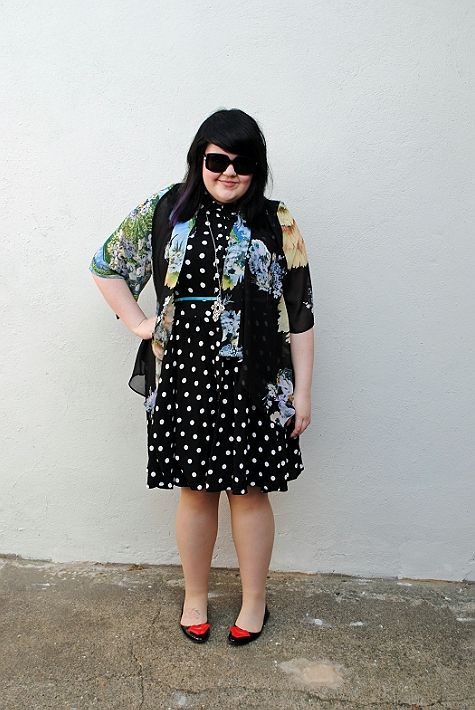 DRESS:
Dorothy Perkins.
SHRUG:
Ella-Tino
.
BELT:
Stolen Borrowed from sister.
NECKLACE:
Primark.
SHADES:
Marc Jacobs.
SHOES:
Office.
POINT OF FASHION:
Summer dark.
Despite it being absolutely roasting hot - I still decided to wear dark colours.
Once a goth, always a goth!
The Roadshow was primarily a model search for the new face of Ann Summers for their Valentines Day shoot, with extra activies dotted around.
It was really enjoyable, but unfortunately wasn't as big a turnout as some of the others, probably because of the beautiful weather outside.
There were some really striking would-be model grrrrrrlz though - my favourite was a girl with red hair and bright fuschia lips who was so naturally gorgeous and sweet.
I'm sad I didn't get to nab a picture of her!
My part was the
'Ask A Stylist'
section, where I selected my favourite peices and talked a little bit about it.
I assumed this was going to be just in front of small groups at a time - however I found myself being strapped into a Janet Jackson mic by the gorgeous promo girl Kate and my annoying Geordie voice suddenly boomed to unsuspecting shoppers.
It was so much fun though - my last job involved speaking in front of large groups of teenagers, so it wasn't too intimidating.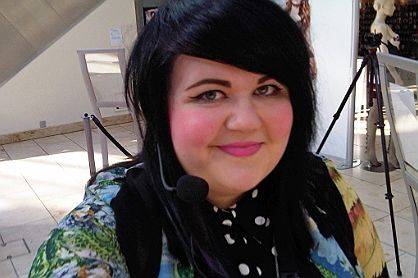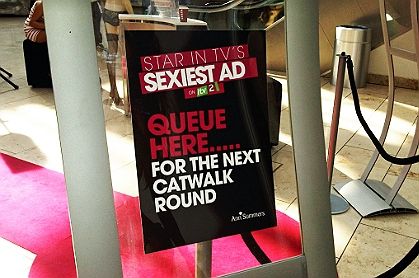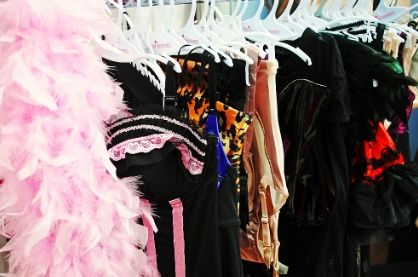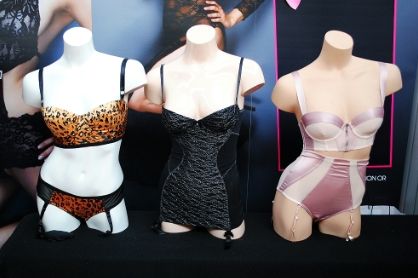 The final picture shows my three favourite peices for the party season.
The
leopard balconette bra
will look so cute underneath a sheer black
(or even white if you're feeling daring)
blouse and little skirt. I love the underwear as outerwear trend.
The cami in the middle is perfect for underneath little black dresses - especially for girls who need a bit of oomph given to the chesticle department. It has little gel 'cookies' hidden in the cups which can be inflated as desired with a sweet little pump.
And finally the dusty pink vintage-inspired balconette bra and pants. They're the NEW Briget Jones knickers which are both practical and gorgeous. The bra is great to be worn alone and as an everyday bra, but the zip in the middle adds some extra fun!
I know with some curvy bloggers, pull in pants can be a bit of a minefield.
Some girls find them restrictive, some girls love them.
Personally I'm in the LOVE catagory, as I'm very sensitive about my middle area - my least favourite part of my body! And pull in pants give me that extra confidence to wear something a little more figure hugging than I usually would.
I can't wait wait wait to wear these under my party frocks when it comes to holiday season.
The cami and the pink bra and pants are not on the website yet - but as soon as they are I'll update this post with links!

IN OTHER NEWS:
I COMPLETELY forgot to mention yesterday that my blog is now
two years old
.
I can't believe two years have already gone since I first sat down in my bedroom in my student house and started typing away.
I don't want to get all
Gwyneth
on you all, but I've met some wonderful people - some I've been lucky enough to meet in real life.
The past year or so has been especially amazing, as I've got to meet some of my favourite bloggers - some like
Lauren
and
Claire
have turned into wonderful friends.
And I've shared beds with them both, booyah.
(FYI: Lauren snores.)
So thank you to everyone who reads my blog, sends amazing emails, tweets me
funny animal videos
, offers to meet up when I'm in London
(shout out to my favourite
monkey, Claire
for this! Can't wait to see you soon!)
, comments here and generally projects general awesomeness my way.
In short, I love thee all.
Snogs for everyone!
Here's to two more years...
Muchos love,
MessyCarla.