Hey everyone,
Have you got over the initial shock, yet
? No me either.
Believe me it was a big decision going back to black hair after being red for around 18 months.
But it's time for a change.
Mind you, the moment my red locks slowly turned ebony is one of the moments I'd like slow-motioned when they eventually make the made-for-TV movie of my life.
(God that'll be dull. I recommend watching whatever is on the other channels)
.
Anyway...
Last week I took a few days annual leave and went to visit one of my dearest friends Hattie, who moved to Leamington Spa this year when she got a job as a camera operator on a shopping channel.
We also managed to squeeze in trips to Stratford Upon Avon, the hometown of William Shakespeare.
I loved it a lot, but I thought it was funny how EVERYTHING was related to Shakespeare in some way - from
Marlowe's Restaurant
to
Ye Olde Internet Café
.
Hmm sort of.
I also suggested we go to London on the second day, as it was only £12 return I could hardly say no to having a fleeting visit to my boyfriend of a city.
(Newcastle is my husband)
We wandered around Camden market, before heading back to Kensington to browse the expensive boutiques
(I've started a savings account for a Chanel bag)
and museums.
We ended up sitting in the garden of the V&A for a few hours, sipping rasberry iced tea
(me)
and lemonade
(Hattie)
, just chilling.
This is where I took this photo of my outfit.
It's also the last photo you'll be seeing in the near future of me with red hair.
Adieu.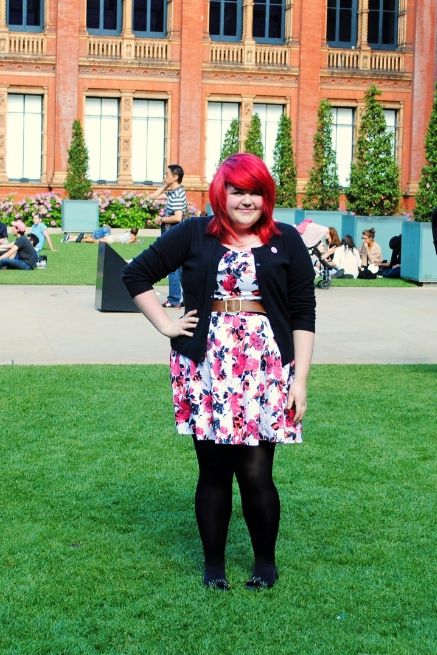 DRESS:
Evans,
via Lauren's selling blog
.
BELT:
Dorothy Perkins.
CARDIGAN:
Asda.
NECKLACE:
Vintage.
SHOES:
Primark.
POINT OF FASHION:
Ladylike.
I like to dress up whenever I go to London, it's just a silly wee thing I do - and even though this is really an evening dress, I dressed it down with my favourite tan belt and some flats.
The black cardigan still keeps it chic.
Thank you so much to Lauren, who sold me it for just £8 with shipping!!
I'd loved it ever since I saw
this post, where she looks like an absolute babe
.
(Yes even in the last picture!)
OH I actually found my cardigan at Hattie's house! She was wearing it all day during Stratford when I spotted my
Epoxies
badge on it.
"Oh yeah, you left it at my house like two years ago. You've obviously really missed it!"
She said.
Hmmph!
Anyhoo, some more pictures of our adventures: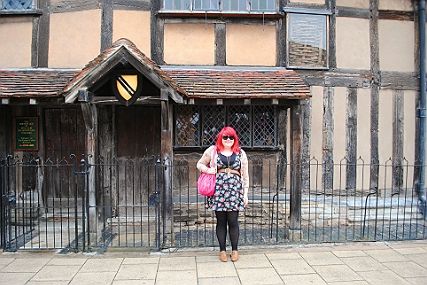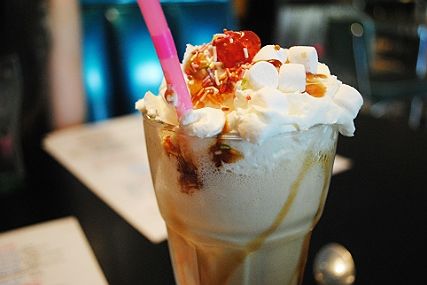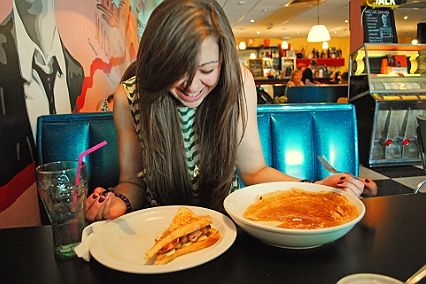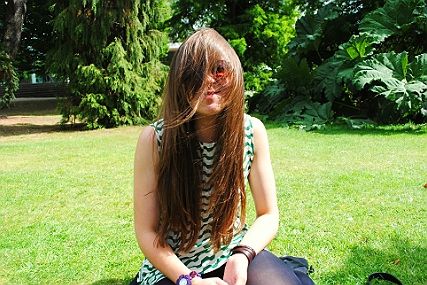 1:
Outside the birthplace of William Shakespeare.
We were there in the height of tourist season, so there were lots of folks outside doing typical poses. Hattie proceeded to be immensely Northern and shouted
"GET THEM OUT FOR THE LADS!!"
I swear I need new friends.
2:
Nommy toffee milkshake at Docker's 50's diner in Leamington. I've wanted to go here
ever since I saw it on Frills N' Spills
!
Maria deserves a shout-out here too, as when Hattie first moved to town and knew absolutely nobody, Maria offered to take her out for lunch and show her some of the sights...yet another example of the fantastic things that happen simply due to blogger networking!
3:
Hattie couldn't decide between stuffed French Toast or the pancakes drenched in maple syrup...so ordered both. Then helped me out with the rest of my fries I was struggling with.
How she stays so skinny is beyond me as she daily eats the same amount as the average horse.
4:
Post-gorging wander to Leamington gardens which are so beautiful. Hattie bought her dress the day before at Camden market for just £15.
Even though I was only away for four days, it was lovely to just hang out and
'be'
with one of my besties again.
We spent the rest of our time watching Disney films, drinking tea and eating shortbread.
Muchos love,
MessyCarla.