Hey everyone,
It was
Daniel's
20th birthday on Saturday, so we went for belated drinks yesterday.
I was in one of those moods where I didn't fancy wearing any of my usual get-ups, so I peiced something together from bits and bobs I've had for a while.
The only thing new here is the lace top
for just £8 in the ASOS sale
.
Someone braver than me could wear a crop or even a bra underneath, but I played it safe with a black vest. I love that is has a peter pan collar, too!
The only thing I'm not too sure about is the skirt.
It's officially my 'formal/interview' skirt as when worn on the waist it come down to my knees. Even though I hitched it right up to under my bust, it still hangs funny on me.
Granted it's from ASOS Curve, and their smallest size is a 20 - making it a few too sizes too big for me anyway - but still, if I didn't need it on standby for things like meetings and interviews I'd take a few inches off the length. Hmmm.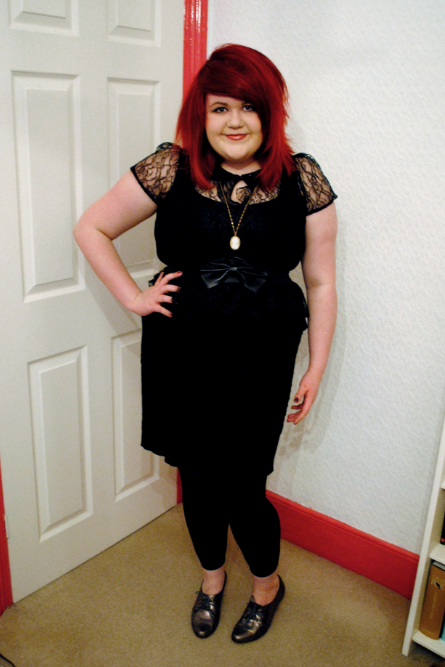 LACE TOP (over):
ASOS.
VEST (under):
Dorothy Perkins.
SKIRT:
ASOS Curve.
BELT:
ASOS.
CAMEO:
A present via Topshop.
LEGGINGS:
Primark.
SHOES:
Office.
POINT OF FASHION:
A little teeny tiny bit goth.
Haha I do feel like a bit of a goth girl, again.
(Either that, or a cheap knock-off version of Fashion Hayley...)
It doesn't help my case that the book you can see to the bottom right of the picture is
The Complete Tales and Poems of Edgar Allan Poe
.
Eventually I decided this look was slightly too intense for a Sunday night dancing, so I changed the belt for my favourite butterfly one, and draped my bright floral shrug over the top.
You can see both in my last outfit post
.
I do wish I'd had a darker lipstick, though. I rummaged around trying to find one I have from Urban Decay
(Gash)
, but had to make so with a plum colour from Benefit
(Fruit Cocktail)
.
Anyway...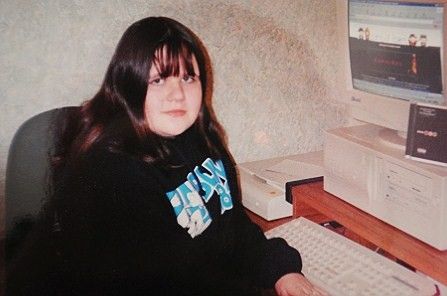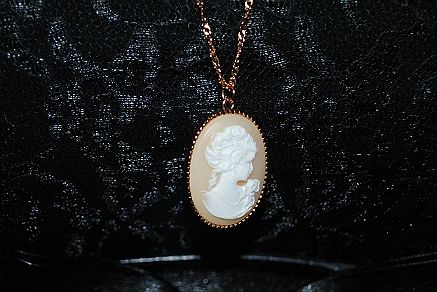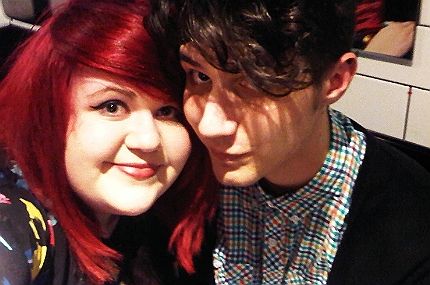 1:
Hahaha I thought you guys would appreciate this - I was a bit of a goth when I was eleven/twelve. What a mess! Here, I'm surfing a fansite for Trey Parker and Matt Stone, and listening to
Take Off Your Pants and Jacket
by Blink 182. Rock and roll!
2:
My cameo necklace
(a birthday present last year from Daniel)
goes with everything.
3:
We went to
The Bank Bar
for some drinks. We used to really love it, but it has gone sort of downhill recently.
However, it was back on top form last night - their new drag queen Raunchy Rusty is dead funny, plays some brilliant tunes
(Part Of Your World followed by Heart Of Glass? - YES PLEASE!)
and performed a surreal, filthy and hilarious cabaret act. I'll never watch The Sound of Music the same way again...
In other good news, my best-friend
Hattie
returned for a visit this weekend.
She's recently moved 300 miles away to work as a camera operator on a shopping channel, so I was really excited she'd decided to drop back home unexpectedly.
It was especially fun as the weather was so beautiful, we sat in her garden for most of the day having a catch up, with a few beers and a few Cornettos!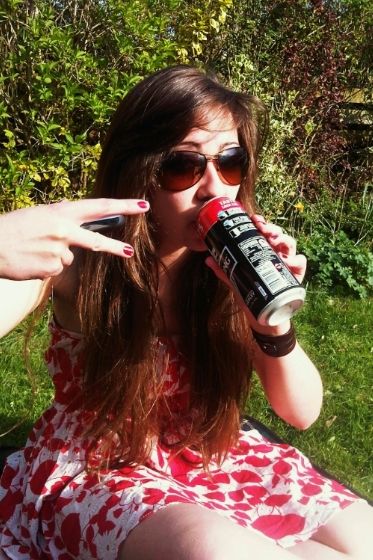 The Only Way Is Hebburn...