Hey everyone,

If you don't know, November is the month for the boys!
International Men's Day is on November 19th, and according to the website, this objectives of the day are:
To promote positive male role models; not just movie stars and sports men but everyday, working class men who are living decent, honest lives.

To celebrate men's positive contributions to society, community, family, marriage, child care, and to the environment.

To focus on men's health and wellbeing; social, emotional, physical and spiritual.

To highlight discrimination against men; in areas of social services, social attitudes and expectations, and law.

To improve gender relations and promote gender equality.

To create a safer, better world; where people can be safe and grow to reach their full potential.
Doesn't sound to shabby does it?

Co-inciding with this is the Movember event, where moustaches are grown throughout the month to raise funds and awareness for men's health issues (however in the UK, Movember specifically focuses on Prostate Cancer awareness).
According to the website's statistics, men are less likely to visit their doctor - mostly because of embarassment.
But the logic is by having something humourous like a moustache as a catalyst, this will get the boys talking about their bits!

Now as a girl, I am unable to grow a moustache (*hides pot of Veet behind back*), there's got to be another way I can show my support, right? Right!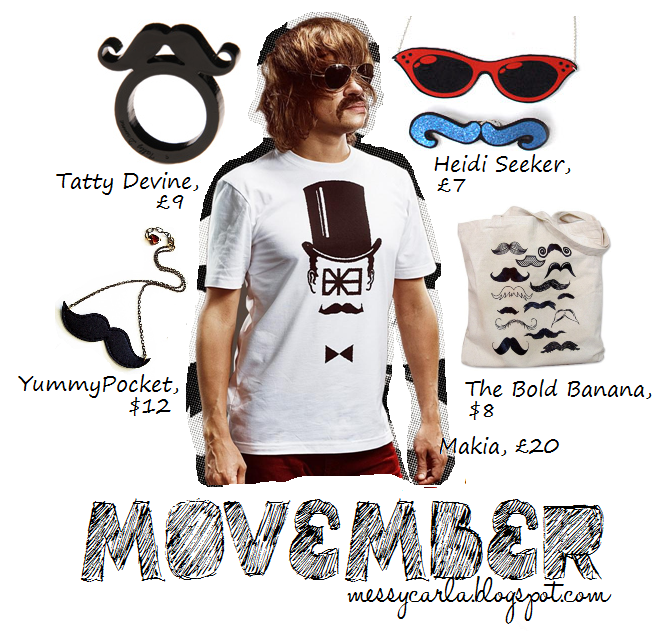 For every Makia Movember item sold, 20% will be donated to the charity - so get your dad's/brother's/boyfriend's/husband's etc's Christmas presents sorted!

You can check out other charity items for sale on the official Movember website, including moustache combs and slippers.


In other news - I hope all my fellow British lovelies have something nice planned for Bonfire Night, tonight. Whatever you do, please stay safe!

This is one of my favourite holidays, and I do find it rather sad that it's celebrated a lot less than the very Americanised Halloween (which I do love too!).
Wrap yourself up warm and go down to an organised fireworks display (check your local paper).

Be sure to bring some treats such as soup, treacle toffee and honeycomb. Nom nom nom.

Muchos love,
MessyCarla.