Hey everyone,
Another outfit I wore on a shopping trip: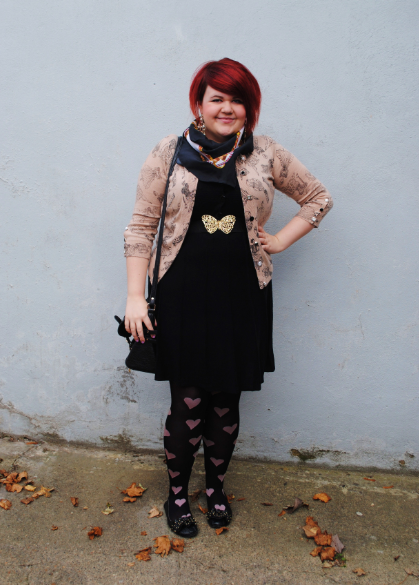 DRESS: Primark.
CARDIGAN: Forever 21.
SCARF: Vintage.
EARRINGS: River Island.
BELT: New Look.
BAG: River Island. (See what's inside in this video!)
TIGHTS: ASOS.
SHOES: Primark.
POINT OF FASHION: English Eccentric.
My fashion sense can be a little zany, but I've been pulling it back lately.
But the
last Outfit Post was a little out-there
(than usual) with the white tights, so I'm doing to do some more mix and matching.
It is a little all over the place, and next time I'll probably wear plain black tights.
But I think I look a little like an eccentric - and if it's one thing we English do well, it's eccentricity.
I think this school-of-thought carried on to my shopping trip.
It's mid-season sale time, which means the shops get full of old summer junk that nobody really wants.
(PLEASE, no more cutesy floral dresses!)
So instead of finding stuff I'd usually go for, I thought I'd be adventurous and try some new things, including this rather hilarious get-up from Topshop:

I look like a potato! BAWWWW!
And LOL at my tights I didn't bother to take off...
I look about twice the size of myself - especially about the middle I look like I'm wearing a nappy. The dark tan leather jacket is lovely, though, but I didn't buy it.

I reckon it would look cute on someone slimmer and taller than myself? Hmm.


So it was a pretty unsuccessful shopping trip, but c'est la vie.
I can't wait for all the Autumn/Winter stock to all come in instead of having to rummage through rails of pastels and frills and chintz from summer.
Bring on the woolies and sparkles!
In other news, my tweetheart
Miss Jessica
wrote on her Twitter last night, my hero
(and incidentally her brother)
Craig Nicholls from The Vines joined The Smashing Pumpkins on stage to sing
Get Free
.
My mind is officially blown.
I hope videos emerge on YouTube soon!
EDIT:
A video has emerged! Eeiiiiiiii!
Finally, if you are so inclined, feel free to
follow my blog with BlogLovin
.
Muchos love,
MessyCarla.

PS:
Just so there is no confusion - I didn't mean that
only
tall and slim people could wear the playsuit. I only meant that I don't think it suits me, personally.
(Similar to how maxi dresses look amazing on some curvalicious and skinnyminnie girls alike, but I don't think they don't suit me).
Just so nobody gets upset! :) xxxx