Hey everyone,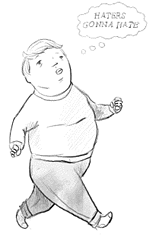 Apologies that this is going to be a little off-topic, but there's something I'd just like to say for the record.
I'd also like to address a negative comment that I received
(and have since deleted - I appreciate your constructive criticism, but there is no place on this blog for blatent spite and negativity hiding under Anon
).
Someone basically commented today saying something along the lines of how they think I've gotten
"too big for my boots"
I've been fortunate to attend a few events now, and I'm
"neglecting my blog"
.
First, let me just put my life into some perspective for you:
I've been out of a job for just over a week now, which isn't long, but I've been rushing around everywhere
(and I mean EVERYWHERE)
trying to get placements, interviews...anything really, as I absolutely hate being unemployed.
On top of that, I'm attempting to have a social life AND fit blogging around that.
Some people just done appreciate how much work bloggers put into their post - from researching, taking photos, photoshopping pictures together
(like the above)
takes time, as I like to make every blog post worthy of a read.
I'd never just "bung" anything together and hope for the best.
Not to mention I've spent my own money getting to events
(travel, hotel, food etc. all adds up).
I also have to pay monthly to host my photos, and my layout was quite expensive as I specifically had an artist
(the fabulous Lucy Farfort)
and design which I knew would work for this blog.
Remember,
I DO NOT get paid for doing this blog
- I have no advertisers
(n

one who have asked me seemed suitable, and I'd consider it unfair to you guys to promote a product or business that had no relevance)
and I don't get paid for reviews.
I don't get how going to events makes me "big for my boots".
If you knew me, you'd know I do NOT have an inflated ego - quite the contrary.
When I put this blog up just under a year ago, you have no idea how much it took for me to post pictures of myself on the internet.
I'm not fishing for compliments, but to say I think I'm better than anyone is simply ludicrious.
Surely I thought reporting on events would make for more interesting blog posts, as opposed to getting hundreds of entries of me
standing in my backyard or room with my hand on my hip
.
Oh, and hater:
Referring to my weight when you've clicked on a blog entitled
"MessyCarla: A Fashion Blog in a Size 16"...
try something a little more original next time, non? Bon.
I know I shouldn't let this stuff get my down, and I know it's one person when I have over 650 people who have thought me decent enough to subscribe to.
But I'm the sort of girl who thinks
"If one person thinks like this, more people must too..."
so I just wanted to use this post to let you all know how I appreciate every single comment from you guys, I read hundreds of your blogs, and reply to every Tweet and email I recieve.
Next week is this blog's first birthday - so apologies for straying a little off-topic, but I'd rather it was addressed now, so next week is completely negativity-free.
I DO have a fashion related post coming up tonight, so I promise I'll be back to normal soon.
Muchos, Muchos MUCHOS love,
MessyCarla.