Hey everyone,
I'm not into Day 3 of my week-long cupcake-ery shenanigans.
I went to bed last night completely covered in flour and icing sugar.
Crack an egg on me and I might rise if it's too sunny outside.
*coughs edible glitter*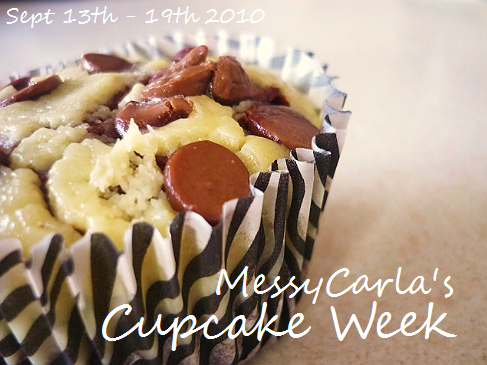 Today's cupcakes are some fabulous
Rainbow Cupcakes
.|
I first made them for my darling
co-workers and boss, Tony, at LGBT station Pride Radio
during
Northern Pride
and they went down a storm.
(I'd also had a bit of fizzy pop and giggling down the microphone to Tony - but he'd been on the mojitos and had just met Lisa Scott-Lee so I don't think he minded too much...)
But this time around, I added another layer, and a cream cheese frosting instead of being slightly naughty and using
Ann Summers' vanilla body icing
- as a talking point, if nothing else!
Anyhoo, here they are: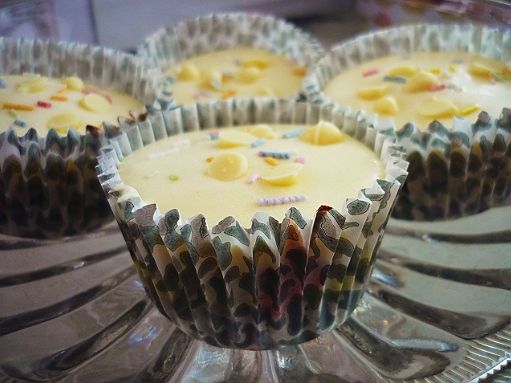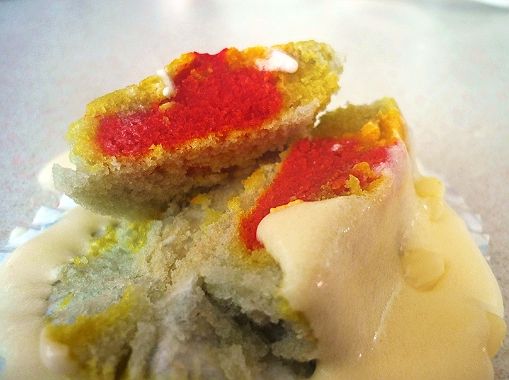 For Vanilla/Rainbow cake:
1. Use the same basic Vanilla cake recipe as yesterday, but divide the mixture between four bowls, and add a few drops of food colouring to each one.

2. Gently spoon a tablespoon of each mixture into the paper cases one at a time. Don't worry if they seem to run into each other.

3. Bake for 20–25 minutes, until the sponge bounces back when touched.

Frosting:

300g icing sugar, sifted
50g unsalted butter, at room temperature
125g cream cheese, cold
White chocolate chips
Hundreds-and-Thousands

4. Mix the ingredients together until fluffy.

5. Spoon the frosting onto the cakes when they are cooled.
6. Decorate with white chocolate chips and hundreds-and-thousands.


These are very fun cupcakes - a quick and easy way to jazz up a very simple Vanilla recipe.
The colourings do add some rather naughty e-numbers, but they're nice for a treat!
(Isn't everything?)

I'd never made a cream cheese frosting before, and don't think it's supposed to be that runny - but it was still delicious - like unset cheesecake!

The cupcakes are definitely going down a treat in the office, and I'm having to take two tins in - one for the reception team downstairs, and a bigger one for the office I'm working in.
However, I think I have a bit of a mutiny on my hands today.
Wendy from the office next to ours brought in MASSIVE pink cupcakes: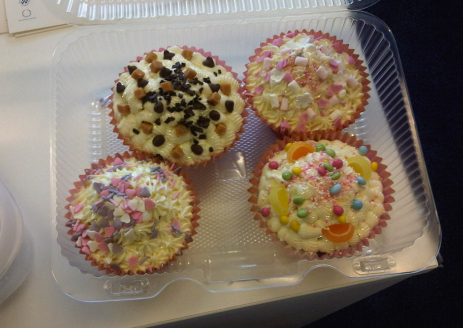 MUTINY! CORRUPTION!
COUP D'ETAT!
I'm going to have to up my game, here...
Recap:
Monday:
Black Bottomed Cupcakes
(Chocolates sponge with Vanilla cheesecake topping)
Tuesday:
Marshallow Cupcakes
(Vanilla sponge with a molten marshmallow, and buttercream and marshmallow frosting)
I've just realised that I've had a surge in new followers the past few days - I hope you are visiting for the cake, but stay for the fashion!
For the benefit of the newbies, I also have a
Facebook page
and
Twitter
where you can chat with me!
Muchos love,
MessyCarla.