Hey everyone,
Yesterday I had a wonderful night with my "Quirky Family."
Although not my real family, it bloody well feels like it sometimes.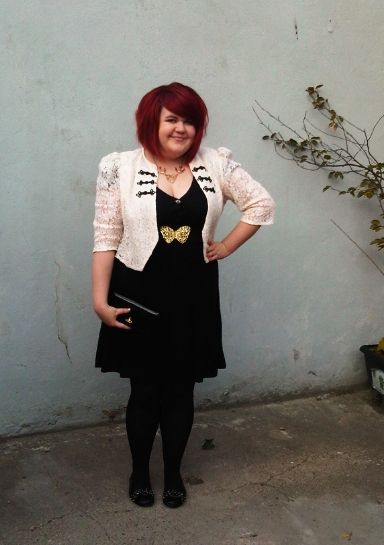 DRESS:
Can't remember.
JACKET:
River Island.
BELT:
New Look.
CLUTCH:
Vivienne Westwood.
NECKLACE:
Miss Selfridge.
TIGHTS:
Primark.
SHOES:
Primark.
POINT OF FASHION:
Ladylike military.
I LOVE that dress! I've had it for years and until recently only wore it for funerals
(fun fact!)
with it being one of my only fully black dresses.
I call it my
'Witchy dress'
- as with the plunging neckline and draped hem it looks something a witch would wear, teehee.
I wore this last night when I went to get Tapas with three of my best friends,
Hattie
,
Megan
and Kevin.
We all met whilst studying our A-Levels at Newcastle College
(meeting in English Literature class)
and used to hang out in Starbucks everyday. We've been firm friends ever since.
We started calling ourselves "The Quirky Family" as we are a bit like a nuclear family unit - with Kevin and Megan as the sensible parents, me as Megan's zany sister, and Hattie as their daughter.
(Because she's so freaking adorable, she even buys Megan birthday cards with 'Mummy' on the front!)


We had a lovely night - eating lots of gorgeous food, and drinking lots of Sangria before nipping over to the scene
(which was surprisingly quiet for a Monday night - I blame the lack of Daniel)
for a few cheeky cocktails. Marvellous!
In other news, this Saturday is the
British Style Bloggers meetup
! If you're a member of
British Style Bloggers
and can get to York for Saturday PLEASE join us for some fun!
I can't wait to meet everyone - then I'm going to hang out with my darling friends
Sarah
(click for her makeup blog!)
and Libby who have recently moved into a cottage.
I haven't seen them in months so it'll be wonderful to catch up.
I'm also SO excited, as in a few weeks I'm going to Belfast to hang out with the lovely
Claire from French For Cupcake
for a few days!
We reckon lots of cake, cocktails, photos and shopping will be in order.
Be sure to
give Claire's blog a read
if you haven't already as it's my favourite fashion blog!
Also
check out the interview with Claire on this blog
from back in March.
It's also going to be my first time in Ireland, so I've had this song in my head since ordering my plane tickets:

"Isn't that relaxing? It's called CELTIC MOODS!"



Finally a happy 21st birthday to my lovely hairdresser Chris who keeps me from looking like a hot mess. *mwa mwa*
Is it wrong I have my hair salon on speed dial in case of emergencies?

Muchos love,
MessyCarla.