Hey everyone,
It's been a little while since I've done an
Indie Spotlight post
, but something I'm extremely passionate about is supporting independent designers - and I've completely fallen in love with Aubree's beautiful confectionary-inspired designs.
This is my pick of the extensive menu of goodies available via
FatallyFeminineDesigns.com
and
Etsy
: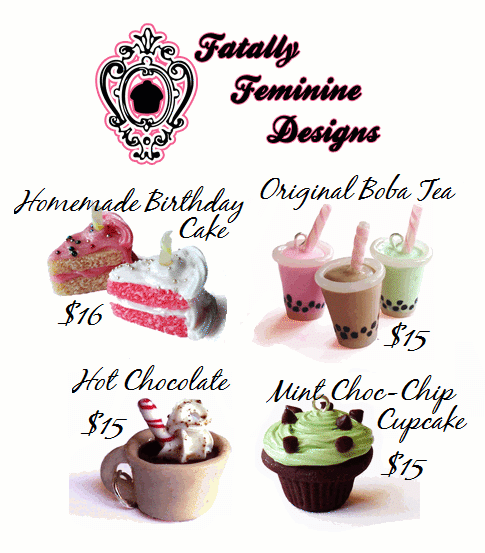 Nom nom nommm!


Everything is now available in both charm and necklace form for an extra $2.
I was also lucky enough to be sent this gorgeous cupcake necklace to review: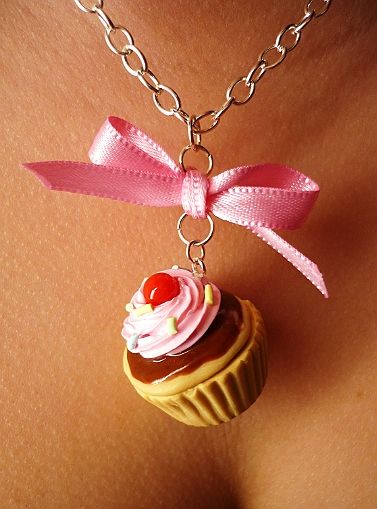 Absolutely gorgeous, no?
Exquisite attention to detail, and good enough to eat! Nom nom nom.
It comes with a delicate silver or gold chain, with an adorable pink bow - and presented in a pink box tied with ribbon for no extra cost!



Remember that most items have many options in terms of colours - pick your own flavours and sprinkles, just like in real life.
How fun?

I just had to ask Miss Aubree all about her delicious boutique:

1. What is the main inspiration behind your peices?
Many things inspire me but the main thing that has always inspired me has been the idea of bringing those little things from your childhood that you cherished into adulthood in a new and fun way. I love the whimsy and carelessness of being a child. I use inspirations from my toys and childhood room to make jewelry that is sweet, overly girly and unique.


2. Seeing as most of your peices have the theme of confectionary - are you a good cook/baker too?
As much as my work is ALL about food, I really don't cook or bake too much. My boyfriend is always cooking for me; he's so sweet! But I actually really like baking. Whenever my friends have birthdays or my boyfriend has one I make a cake or cupcakes. I would love to bake more, but constantly find myself on a diet.


3. What are your favourite peices in the collection?
I have three top favorites. I really love my Homemade Cupcake Charms for their realistic look. These charms are custom, meaning you get to choose your flavors and toppings. Mine is the ultra girly combo of pink pink pink, with sprinkles and cherry on top! I also love my fancy Cake pendants like the Pink Strawberry Cake and Rose Lavender Cake. My last favorite would have to be my Boba Tea Charms for their originality and cuteness. Plus they seem to be a customer favorite, and I love anything my customers love!


4. Are you ever inspired by savoury items in your jewelry or is it sweets all the way?
My heart is definitely in the bakery. I think sweets are eye-candy and fun to make! Lately I have been thinking about adding savory items to my collection, which is something I might do in the future. I always like making new things.


5. Although you already have an extensive collection - what new items are you planning for the future?
I think one of my faults is always wanting to make something new. I get bored making one thing for too long. I love Alice in Wonderland and am developing new charms and pendants inspired by the animated movie and novel. I am also planning on releasing a new line called "Completely Custom Confections" within the next month which will consist of finished charm jewelry that can be designed by you!



So be sure to check out Fatally Feminine Designs. They're online via:
FatallyFeminineDesigns.com
Etsy.com/FatallyFeminine
FFD Blog
Facebook

If you're an indie designer and would like to be featured here, please get in touch!
I'd love to hear from you.

Muchos love,
MessyCarla.