Hey everyone,
I am a MASSIVE Britney Spears fan. I've loved her since
Baby One More Time...,
right up to
3
. I've been
one step away from Chris Crocker-ness
when she was going through all her troubles (though, frankly, when is she not - poor lass).
Silly Old Daniel
has written some brilliant Britney commentary in his blog too, which is always worth a read.
But Britney's just agreed to something that has made me love her a million times more.
She recently did a photoshoot for Candie's, which I believe is a clothing brand in the USA, aimed towards pre-teens and teenagers. And she agreed to release her un-photoshopped pictures along with the photoshopped ones for comparison, and to highlight the pressures within the industry to look 'perfect:
I've nabbed the pictures
from Marie Claire
:
In the front pictures, it appears they've slimmed more or less everything - her arms, her waist, her thighs, her legs. Even her skin tone has been evened out. Look at her KNEES in the photoshopped ones - they look like Barbie's!
And as for the shot of her back: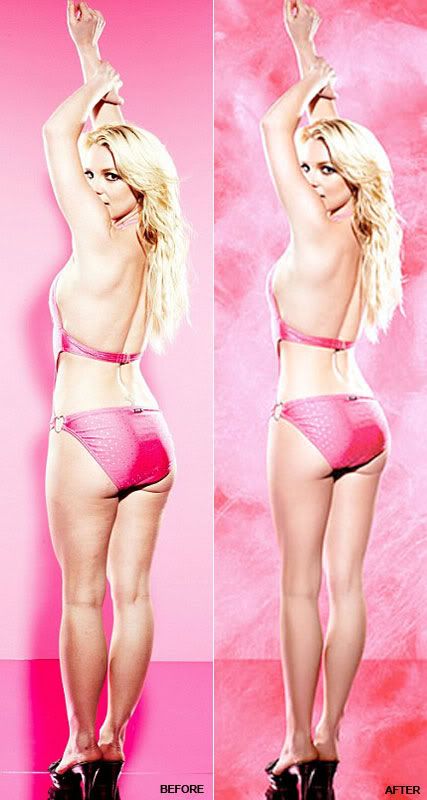 Again everything has been 'thinned' and toned. Her cellulite zapped - even the marks on her feet that every girl gets when her shoes are rubbing are gone, her bum and breasts have also been lifted.
If you look closely at her lower back - where has her tattoo disappeared to?!
(The same thing happened to Fearne Cotton when she did a sexy photoshoot for a lads mag - unbeknownst to her, her tattoos mysteriously 'disappeared' in the photos...)

I know this is a little out of place from my usual fashion posts, but this blog also encourages positive body image no matter what size you are!
I'm so sick of people calling her 'chunky' or 'chubby' when she is neither - you can see that for yourself in the pictures. She has what all girls have - so-called 'problem areas' with their upper arms, belly, boobs and thighs, that never look anything like they do in the magazines.
(I'll say it again - her photoshopped knees look bloody ridiculous!!)
So KUDOS to Britney for having the courage to show off her natural beauty, and say to the world "THIS IS WHO I AM!"

Muchos love,
MessyCarla.