Hey everyone,
Tokyo has a bit of a reputation for out-there dining.
From
a restaurant where you are attacked by ninjas
, an Alice In Wonderland cafe, a Catholic cafe, animal cafes
(not just cats - now also dogs, rabbits, owls and reptiles...)
, maid cafes,
a Moomin cafe where solo diners receive a plushie to keep them company
, Sebastian Masuda's
Kawaii Monster Cafe
(I actually visited here in 2015 - stay tuned!)
the list goes on and on.
But being quite the Ace Attorney fangirl, I could resist seeking out the
Capcom Bar
in Shinjuku, where I'd heard offered edibles and drinkables dedicated to everyone's favourite spiky haired rookie lawyer.
I'm not going to lie, it took a bit of wandering around to find it - eventually I found it on a side street wedged between a pachinko bar and a particularly seedy looking hostess club.
It appears the ground floor is another restaurant entirely, and the Capcom bar takes up the second floor.
I was the first person waiting and I didn't have a reservation so I asked a staff member if I was in the right place. He confirmed I was, and gave me a menu to browse and pre-choose options.
This was all in Japanese, and mine is practically non-existent I signaled to the guy I would be ordering upstairs and he gave me a thumbs up.
A few other guests started queuing, a mix of tourists and locals.
Then the door swung open and he were invited inside.
Even though the bar was nowhere near full capacity as I was a solo diner I was shown to the bar seating which was a little uncomfortable but
rules is rules is rules
.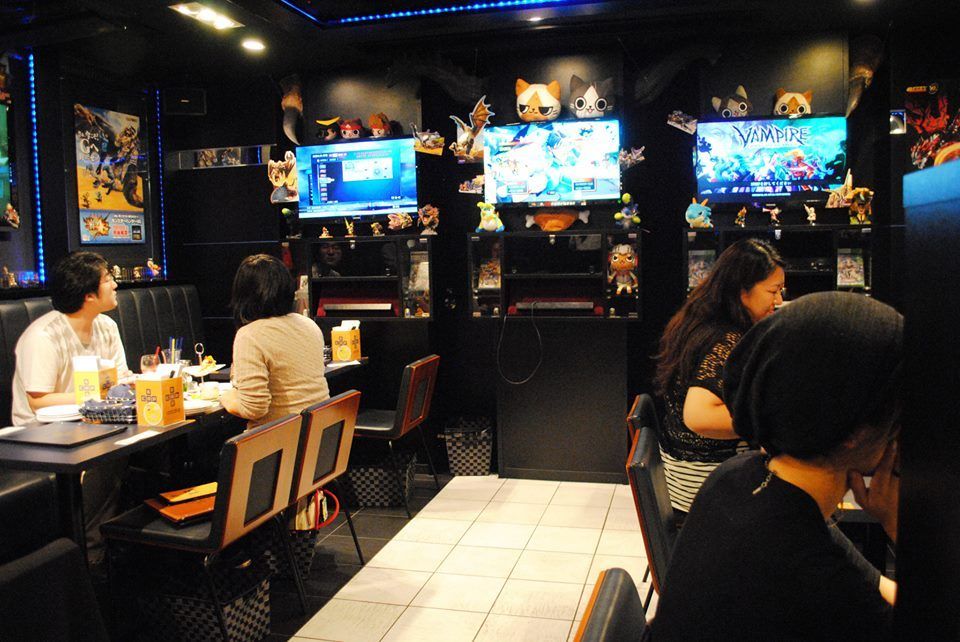 Inside is very cool and black and shiny.
The three huge screens you can see are hooked up to machines where you can play the latest Capcom releases.
And thankfully this ignorant gaijin was given a full colour menu with English.
However this is what was available when I visited in 2015: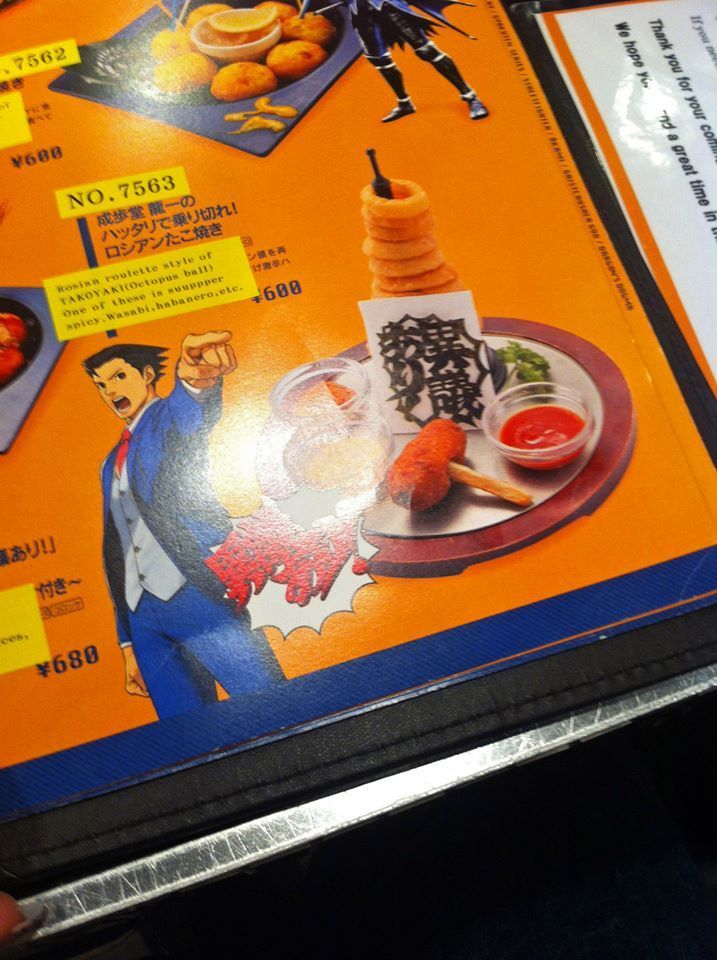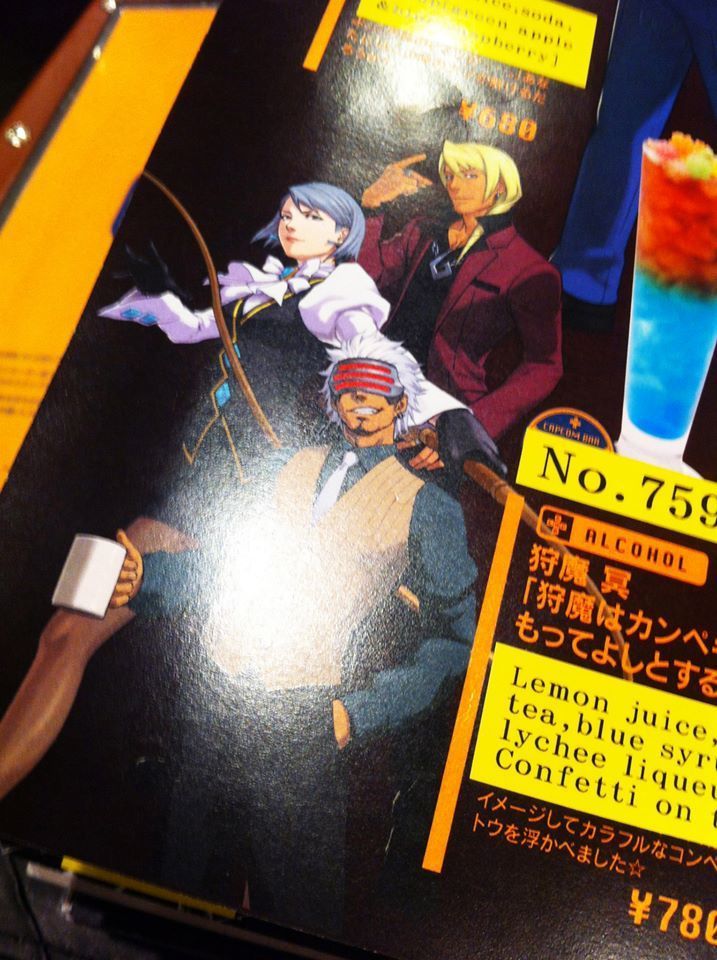 Apollo's bracelet themed onion rings and a potato croquet gavel.
Cocktails based on prosecutors Franziska Von Karma and Klavier Gavin.
Also a black coffee for Godot, naturally. ("It's bitter today, too... Just like my destiny.")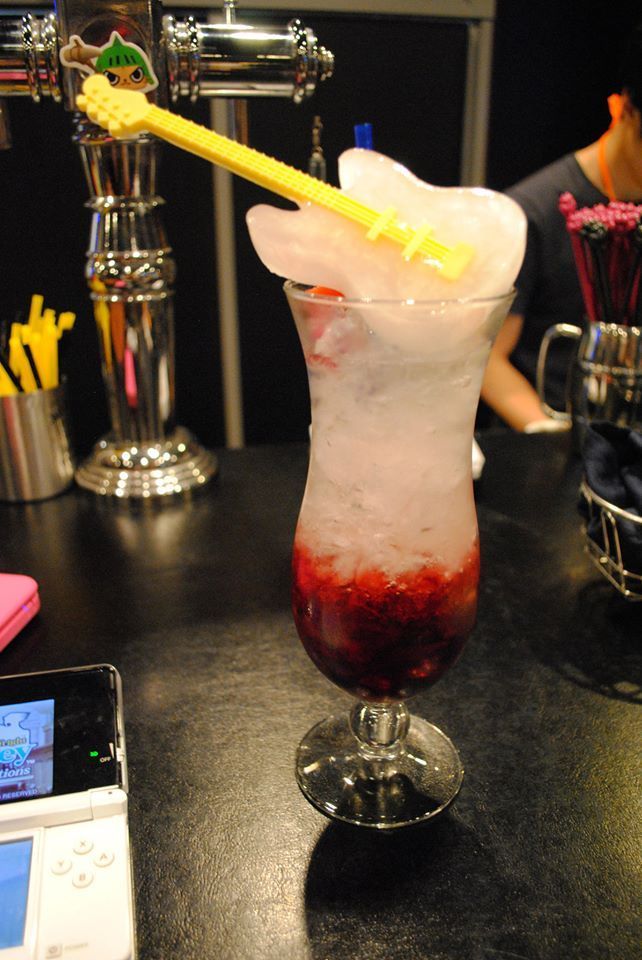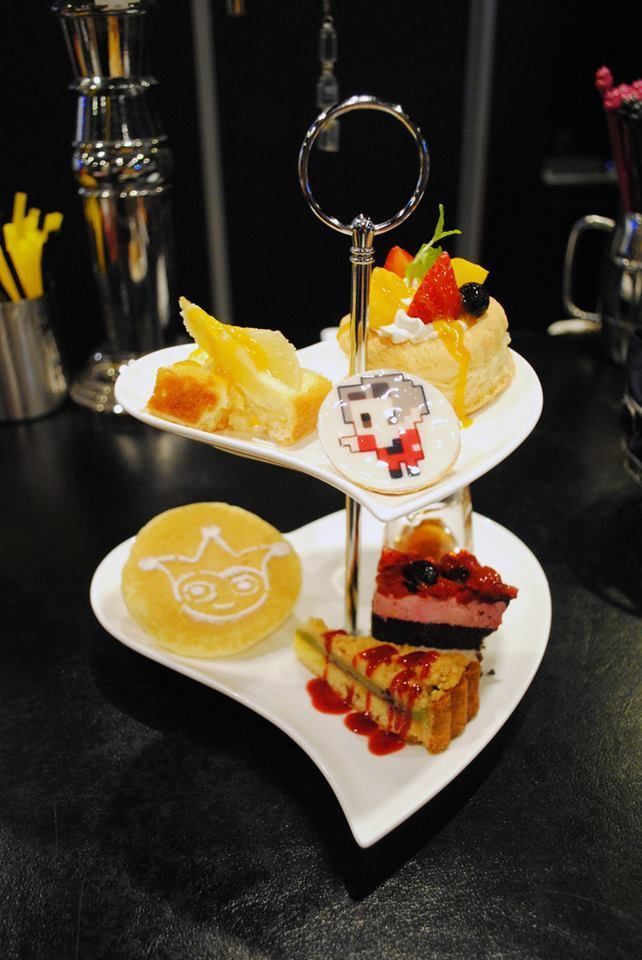 I ordered the Klavier Gavin cocktail - he is a musician so check out the ice guitar!
The cherry red liqueur is the same colour as his jacket.
Along with this I had Miles Edgeworth's High Tea.
This tickled me as Edgeworth is often localised by fans (alas not canon) as British.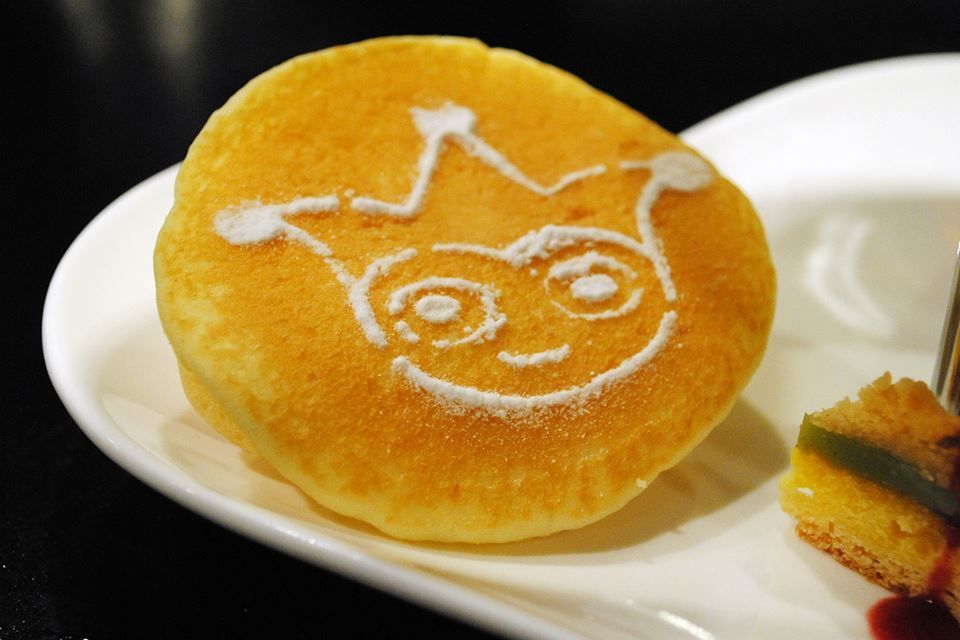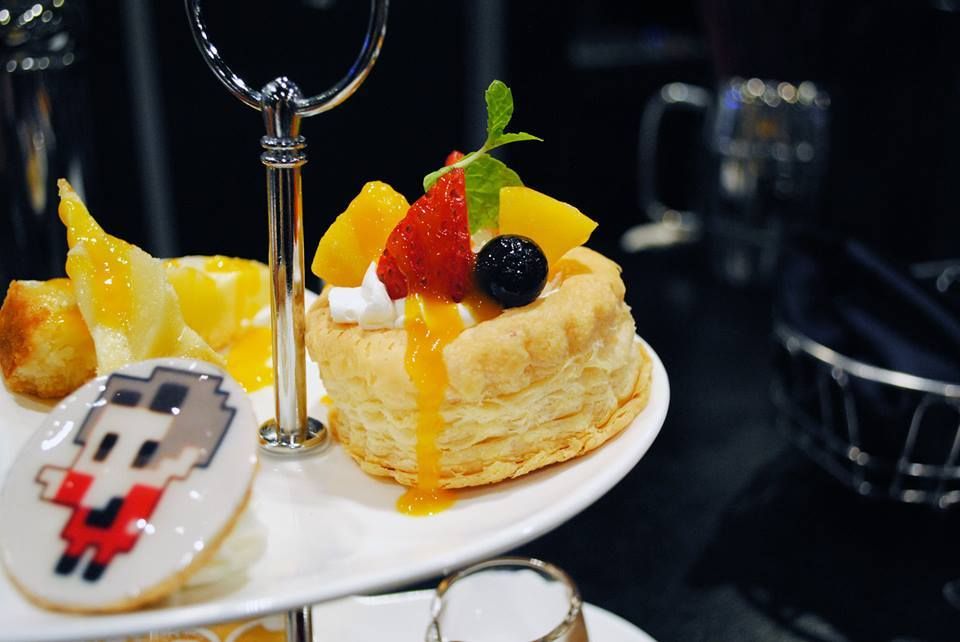 Delicious pastries and sweet treats - including this adorable 8-Bit Edgey cookie which was almost too cute to eat!
Noticing I was alone, the smiling waitress came over, explaining "friends for you" and put these next beside me:
D'awww. My lads.
Although I had my 3DS with me, I was also offered a Japanese 3DS with the then-unreleased Ace Attorney HD Trilogy loaded.
The service really is second to none in Japan, and all these little touches were really sweet.
The came the skits.
I speak barely any Japanese, but by then the Klavier Gavin cocktail had kicked in and I found the whole thing rather shambolic and therefore hilarious.
Suddenly the barman produced a gavel, and whacked it hard on the counter so hard I nearly fell off my stool.
The
Ace Attorney soundtrack
started blasting and there was a very random court scene involving a girl's "stolen" onion rings.
Only in Japan.
"HOLD IT!"
"TAKE THAT!"
There was also an opportunity at the end of the meal to buy exclusive merchandise.
A lot of what I'd had my eye on was sold out, but I did buy a Blue Badger mug. There was also a daily raffle when I was there to win some pin badges.
I can't see anything about this on the website, but I'm assuming the still sell merch.
Overall, I had a wonderful experience.
A lot of love has gone into the place, and the cheerful staff seem to be having a ball too.
Of course if you're not so much into Ace Attorney, many other Capcom series are featured including: Street Fighter, Resident Evil, Monster Hunter, Biohazard, Devil May Cry and Rockman!
If you're a total nerd like me - it's definitely worth a visit!
Muchos love,
Carla.