Hi everyone,
I'm so excited about the neutrals trend at the minute. Although I'm still wearing my bold floral dresses, the neutral's theme is taking this further by toning down the look.
Think
stepford wives
,
Charlotte York from Sex And The City
, and ballerina-like daintiness.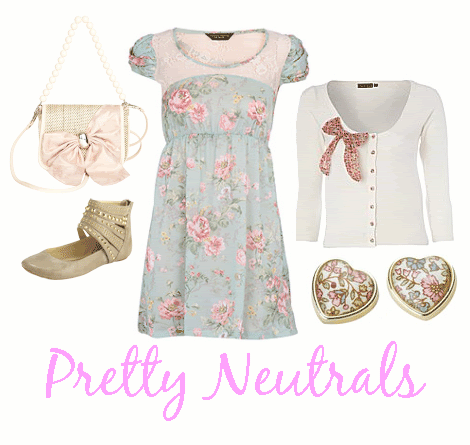 TUNIC: Dorothy Perkins, £25.
CARDIGAN: New Look, £20.
BAG: River Island, £29.99.
SHOES: Matalan, £12.
EARRINGS: Accessorize, £4.
I love that none of these items are over-the-top priced, but portray a glamorous look.
It reminds of me one of my favourite quotes from Paloma Faith: "Sometimes the illusion of grandeur is more endearing than actual riches."
I'd like to dedicate this entry to my darling friend Megan: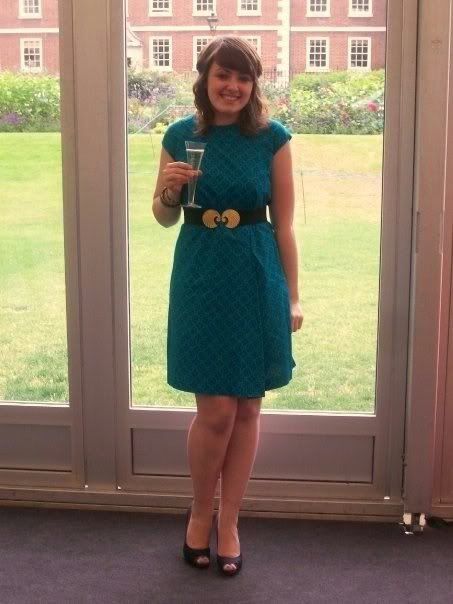 As long as I've known her (about five years now) Megan's been the epitome of ladylike glamour, with lots of florals and chintz in her wardrobe. And it reflects her personality perfectly - kind, demure, sweet and charming, who believes everything can be sorted with a nice cup of tea and a cupcake.
But she's no pushover - Megan's the Pro Bono (this from Latin means "For The Public Good" - appropriate!) of her university Law Society, and is on first-name terms with some of the top lawyers and judges in the country.
Whoever said that girls can't embrace our feminimity and be career girls hasn't met this one.
Tomorrow I'm posting the fabulous interview I did with the beautiful Claire at French For Cupcake all about all thinks baking and fashion.
Coming up next week is a very SWEET post, I'm going all Francophile on you guys, and put on your glasses because it's geek chic time!
I'm also going to be taking to the street of Newcastle and getting some street fashion exclusives - stay tuned!
Thank you to everyone who's commented, twittered and emailed me about the media coverage mentioned in my last entry. You guys are too sweet, and thank you so so much for following and reading - I love you all.
Keep your comments coming and following me on Twitter (I hit 200 followers yesterday - thank you thank you!). Remember, anything you want to know - or just so say hello - get in touch!
Muchos love,
MessyCarla.