I'm finally getting around to doing an outfit post, like I've been meaning to ever since I started this blog.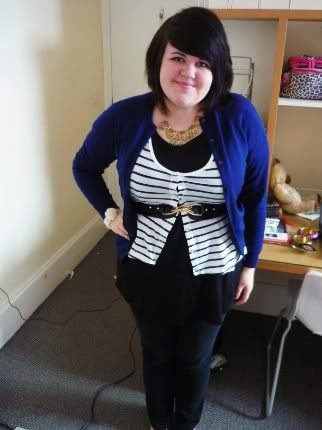 Top (under): H&M, £9.99.
Top (over): Ebay, (originally from River Island), £7.
Cardigan: Vintage, £7.
Jeans: New Look, £20.
Belt: Topshop, £15.
Necklace: Primark, £2.50.
Bracelet: Matalan, £5.
POINT OF FASHION: Nautical.
Sorry for the messy room in the background but I was on my way home to spend Sunday with the family. Spot my teddy bear, Quentin, my fabulous leopard print vanity from New Look and the Primark bangles from the video in my previous entry.
Muchos love,
MessyCarla.